Last-minute Halloween costume ideas for the average procrastinator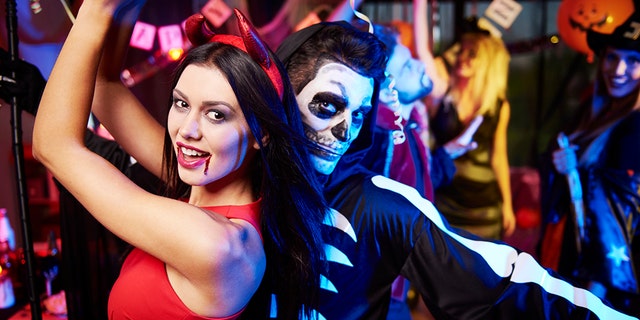 All Hallows' Eve is just days away, so it's time to start perfecting your costume. If you don't pick out an outfit out soon, you may find yourself in a pickle come Oct. 31.
Luckily, there are likely items in your house you could easily use to create your own last-minute Halloween costume — whether you realize it or not.
Here are 10 easy Halloween costume ideas for procrastinators.
Sandra Dee and Danny Zuko from "Grease"
It's the costume you want. The one that you need. Oh yes, indeed. To make this "Grease" costume work, you'll need a pair of black pants, a black shirt, a black leather jacket and — if you're Danny Zuko — a white undershirt. Some sleek sunglasses wouldn't hurt either. If you're planning on pulling off Sandra Dee, add a pair of stilettos to the mix.
Boo from "Monsters Inc"
All you need to be Mike Wazowski and Sulley's best friend is purple leggings, a pink top and some pigtails.
Skeletons
You can quite literally be the "walking dead" with black attire and some face paint. If you're scrambling to find a Halloween costume last-minute, try turning yourself into a skeleton.
A rainbow
If you're a group of three, you may want to consider being a "perfect storm." One person could be the rain, holding an umbrella and sporting rain boots. Another person could be the sun, creating a ball of sunshine from construction paper (or even drawing a sun on a plain T-shirt), and the third person could be a rainbow, which could also be crafted from art supplies.
Morton Salt Girl
Continuing with the rainy day trend, the classic Morton Salt girl is another easy costume. Grab a yellow dress, a dark umbrella and some rain boots. To make your costume even more obvious, you may want to carry around a container of salt that features the iconic logo.
Beanie Babies
With hundreds of stuffed animals to choose from, this Halloween costume doesn't have many limitations. Pick your favorite Beanie Babie, slap on a pair of cat ears, dog ears, or whatever works, and wear a red "Ty" tag in the shape of a heart around your neck.
"Where's Waldo?"
Be sure to blend into the crowd at your next Halloween party with this fan favorite. All you need are black pants, a red-and-white-striped shirt (or a white shirt and some red paint) and a red-and-white beanie to match.
Marty McFly from "Back to the Future"
The DeLorean isn't necessary for this one (though it would probably help). You can pull off this 80s costume with a simple pair of blue jeans, a button-down shirt and a bright vest.
Harry Potter
There are a variety of "Harry Potter" characters to choose from, but we suggest sticking to the most popular: Harry, Ron or Hermione. Grab some dress clothes and a maroon tie (with yellow stripes, if possible) to represent the house of Gryffindor. Obviously, if you're planning on being Harry Potter, you'll also need to mark your forehead with the classic lightning-like scar and put on a par of round glasses. And if you really want to sell your friends on the idea that you're part of the wizarding world, grab a wand.
Vampires
Last but not least, pick up a black cape, fake blood and a set of pointed teeth to pull off a Dracula-inspired look.