Kansas school district copes increased ethnic diversity from influx of immigrants, refugees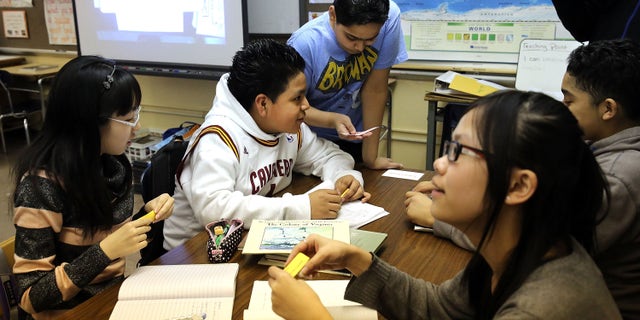 WICHITA, Kan. (AP) – The Wichita school district, which already has one of the most ethnically diverse student bodies in the state, is trying to respond to the challenges presented by an influx of non-native English speaking children from Latin America, the Middle East and Africa.
The district has more than 350 students from other countries and 160 from other U.S. states who speak minimal English. Currently, 81 languages are spoken in the district, The Wichita Eagle reported. It has 11 classrooms spread throughout the district devoted to teaching recent immigrants and refugees.
"Wichita is definitely a diverse district, and it's becoming more so," said Stephanie Bird-Hutchison, a teaching specialist at the district's Multilingual Education Service Center. "Every continent except Antarctica is represented in Wichita schools."
Because federal law requires schools to provide information to parents in their preferred language, an Arabic speaker is on call to help teachers and others communicate with families. And the district contracts with Propio Language Services, an interpreting service that enables teachers and parents who speak any language to converse by phone through an interpreter.
"At the time that we opened, Spanish was about 85 percent of our business," said Dalia Hale, director of multilingual services. "It still is, but we have added additional languages."
The number of students speaking Vietnamese, Lao and Cambodian has decreased while students speaking languages from Africa and the Middle East have increased dramatically in recent years, Hale said. Many in the latter group are refugees from camps in central Africa, Iraq, Lebanon and Jordan.
The 10 main language groups, in order, are: English, Spanish, Vietnamese, Arabic, Lao, Cambodian, the Chinese family of languages, Bengali, Urdu and Swahili.
"We've never had Swahili show up before this year in our data," Bird-Hutchison said. "That has come on due to the refugee population that's just emerging in Wichita."
Ten years ago, fewer than 4,300 Wichita students required ESOL -- English for Speakers of Other Languages -- service. This year, 9,316 students qualified for services, or about 18 percent of the district population.
Wichita school board members recently said they worry a new block-grant funding plan for schools will prevent the district from getting more funding to provide services for the refugees and other immigrants.
"That's a huge concern, because we will not be receiving additional money for those students," said board president Sheril Logan.