Just in time for Rio carnival, foreigners are getting a crash course in samba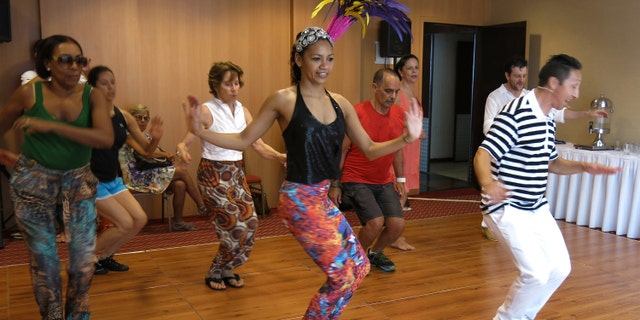 RIO DE JANEIRO (AP) – There is a self-deprecating phrase Brazilians with poor dancing skills use to explain their awkwardness at the parades during Carnival: I samba like a foreigner.
But even foreigners visiting Brazil for Carnival celebrations can learn a few basic moves thanks to the patience of dancing duo Nete Vieira and her husband Naldi. They teach the basics of rhythmic bouncing, marching and arm waving that will help newcomers have fun, and feel less intimidated, while joining the raucous parties that crowd the streets of Rio de Janeiro.
"They look funny, yes," Nete Vieira confesses about the students. "But what I like is how much interest and effort is shown on their part, a lot more than Brazilians. Some of them do get it by the end."
On Sunday, 10 samba novices from Latin America and Europe watched Nete demonstrate master-level moves in a conference room at the Hotel Rio Othon Palace next to Copacabana Beach. Her feet seemed to be set on fast-forward motion as she shimmied over the wooden floors in black platform heels, her moves accentuated by a feather headpiece.
"It's all about finding the right drum to follow. It's hard to get into that beat," she said.
A Spanish woman glided elegantly, more like Ginger Rogers than Carmen Miranda. Maybe she wasn't ready to join one of the skilled dance troupes in the world-famous Sambadrome parade, but she was having fun.
"I have been practicing yesterday and today, and I am enjoying every minute," said 74-year-old Mariperta Martin of Granada, Spain. She was on her second day of the class called "Samba for Gringos," using the term Brazilians affectionately use for most foreigners.
By halfway through the 40-minute-long class, many of the students were soaked, including Uruguayan-born Roberto Birindelli, an actor who has a supporting role in "Imperio," a Brazilian prime-time soap opera.
"I heard 'samba for gringos' and I said: I am in. It's a dream I have had for years," said the actor who has lived in Brazil since 1978.
More than a dozen people just peeked into the room, but none dared attempt to follow the extremely fast steps or muster the energy required to keep pace. A Japanese couple dressed for the beach in sun hats and shorts appeared to consider accepting the challenge, but they slipped out and grabbed a nearby elevator instead.
For Venezuelan tourist Janet Buriel, 41, it's all about trying, even if you fail.
"It's my first time, and it's very different than salsa," she said. "If anything, it was good exercise," she laughed, drying the sweat on her forehead.
Like us on Facebook
Follow us on Twitter & Instagram