Ivanka Trump's visit to Iowa salon sparks social media backlash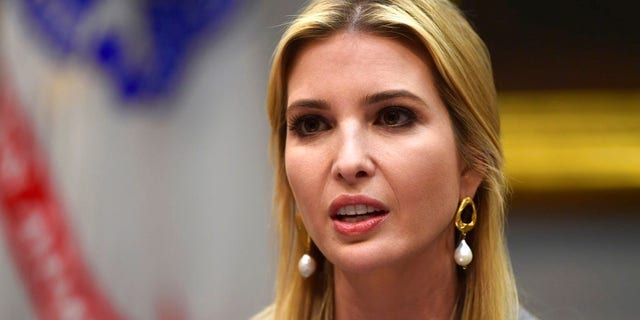 An Iowa salon received major social media backlash this week after posting a photo of Ivanka Trump when she visited the store to get her hair styled before an event.
Salon Spa W, in Des Moines' East Village, posted a picture Monday on its Facebook page of the first daughter, who was in town to tour Waukee school district's Aspiring Professional Experience program (APEX), with Iowa Gov. Kim Reynolds, the Des Moines Register reported. Reynolds was standing next to Trump in the photograph.
"Our Monday kicked off with styling Ivanka Trump for her visit to Iowa! We [love] supporting women in politics," the salon wrote in a caption on Facebook, which has since been edited.
RUTH BADER GINSBURG RANKS THE BEST CITIES TO BUY SCRUNCHIES
Despite the salon's excitement, hundreds of followers lambasted the business for styling the White House adviser and threatened to never return. Some people said the photo was "f---ing gross" and vowed to unfollow the page.
"I agree with previous posters...this is NOTHING to be proud of," one woman wrote.
Another Facebook user commented, "Will never book an appointment at this salon again. Total bum out. This salon employs hetero/non-hetero individuals and this just truly sucks. The fact that Salon Spa W was inclusive was always a big A + to me. You put your money where your mouth is as your vote. I loved this salon. I'm so, so disappointed and I can't imagine how your non-cisgender employees/clients feel. Fail. Won't ever be back."
"You will never get my business based on this one post," a woman wrote, garnering dozens of "thumbs up" and "heart" reactions from users.
Some clients said the salon "should know better" than to serve Trump, while others said they lost all respect for the employees. Several people did come to the salon's defense, however, and said they were "proud" of the business' achievement.
POPE FRANCIS SAYS IT'S 'ABUSE' TO ACCESSORIZE WITH THE CRUCIFIX
China Wong, the president of Salon Spa W, released a separate statement on Tuesday defending her choice to style Trump. Wong said salon employees were "taken aback" by the negative response.
"We believe everyone matters and deserves our indiscriminate care and kindness," Wong wrote in the statement. "We were taken aback by the response to the image below of our Governor with Ivanka Trump who received services from our salon. We also recognize impact matters more than intent. While we are not a partisan organization we do see it as part of our mission to welcome people to Des Moines and serve everyone. We share images of our clients, some that are recognizable public figures, to showcase our work."
Wong said her business has served prominent musicians, actors, Broadway stars and politicians, including former President Barack Obama, over the years. The salon is near the State Capitol and Civic Center.
FOLLOW US ON FACEBOOK FOR MORE FOX LIFESTYLE NEWS
"We also serve you –– our beautiful, diverse and passionate community. We proudly share our work and celebrate all of you because our purpose is making people look and feel beautiful," Wong concluded. "Again, we believe everyone matters and deserves our indiscriminate care and kindness."