Italian journalist who exposed Vatican mismanagement refuses to testify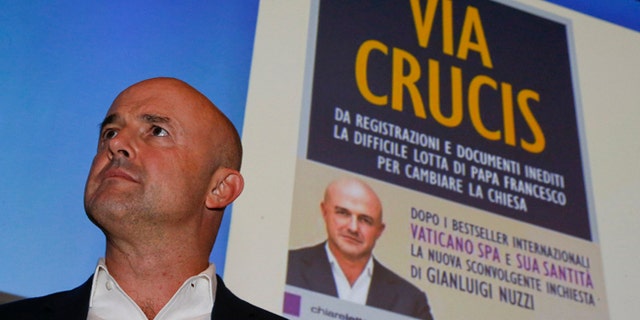 VATICAN CITY (AP) – One of the Italian journalists whose expose of Vatican mismanagement has made headlines is refusing to appear before Vatican magistrates to be questioned in a criminal case over leaked confidential documents.
Gianluigi Nuzzi, author of "Merchants in the Temple," received an official summons from the office of the Vatican prosecutor to appear Tuesday at 10:30 a.m. to be interrogated in the case against a Vatican monsignor accused in the leaks probe.
Nuzzi, who has been placed under investigation in the case, said Monday he wouldn't appear for questioning. In a statement, he accused the Vatican legal system of punishing journalists and criminalizing the publishing of news, and noted that there are no norms in the Vatican legal code allowing journalists to protect their sources.
Nuzzi and another Italian journalist, Emiliano Fittipaldi, published two bombshell books last week based on leaked documents from a commission named by Pope Francis to try to get a handle on the Vatican's finances and propose reforms. The books detailed waste, mismanagement and greed in the Vatican and the resistance Francis is facing in trying to fix the problems.
The Vatican has denounced the books and arrested two members of the reform commission who had access to the documents; one remains in a Vatican jail cell.
Nuzzi's 2012 book on Vatican wrongdoing, also based on leaked documents, sparked a scandal that helped convince Pope Benedict XVI to resign. It also prompted the Vatican to pass a law criminalizing the leaking of information and punishing anyone who reveals or receives confidential information or documentation with up to eight years in prison.
It's not clear what, if any, measures the Vatican will take to compel Nuzzi to appear for questioning. Nuzzi said he would decide whether to cooperate if and when the Vatican seeks assistance from judicial authorities in Italy.
Fittipaldi, who has also been placed under investigation in the case, hasn't said if he has been formally summoned by the Vatican for questioning. He has a news conference scheduled for Tuesday.
Like us on Facebook
Follow us on Twitter & Instagram