Instagram posts might reveal if someone's depressed, according to new research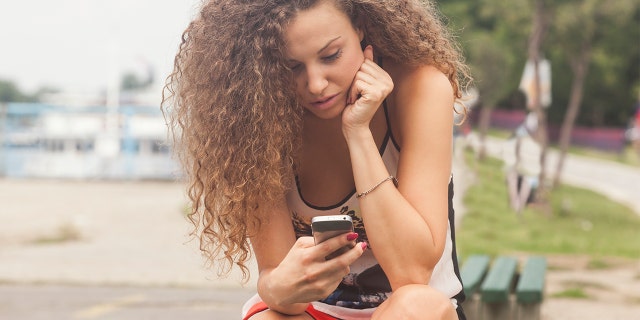 If your Instagram feed is loaded with darkly tinged Slumber, Lo-Fi and Inkwell photos, check in on your friends – a new study states this may indicate depression.
In a report published August 8 in the EPJ Data Science journal, scientists analyzed over 40,000 Instagram pictures from 166 individuals who provided their mental health histories. Roughly half of the participants self-reported a diagnosis of clinical depression within the last three years.
KANSAS GYM BANS CABLE NEWS CHANNELS ON FACILITY'S TVS
Loading the Instagram feeds into a new computer program, the scientists discovered that individuals with a history of depression tend to post pictures that are bluer, darker and show fewer faces. Further, with 70 percent accuracy, the algorithm proved even more successful than doctors, at 42 percent, in identifying individuals with previous depression diagnosis.
"This points toward a new method for early screening of depression and other emerging mental illnesses," said co-study author Chris Danforth in a press release. "This study is not yet a diagnostic test, not by a long shot, but it is a proof of concept of a new way to help people," he added.
LONELINESS COULD BE MORE DANGEROUS THAN OBESITY, STUDY WARNS
This breaking research bears a valuable bottom line, suggesting artificial intelligence may be able to advance early detections of mental illness in the future.
"Patients may shy away from mental health issues when speaking to their general physician and feel less stigmatized in front of a computer," said Joe Taravella, PhD and licensed clinical psychologist, to Yahoo Beauty. "We need to move beyond the 'checklist' screening and create the comfort of an open and honest dialogue to enhance patient physical and mental health."
FOLLOW US ON FACEBOOK FOR MORE FOX LIFESTYLE NEWS
Researchers recognize that they must approach this promising new frontier with caution as not to oversimplify and reduce diagnosis to someone's social media footprint, said Chloe Grass-Orkin of Rethink Mental Illness to BuzzFeed News. "For many people, using social media is now second nature and part of our daily lives, so being able to integrate mental health support within these platforms offers exciting possibilities," she said.