In remembrance: Prince's ex-wife says death of their child was a turning point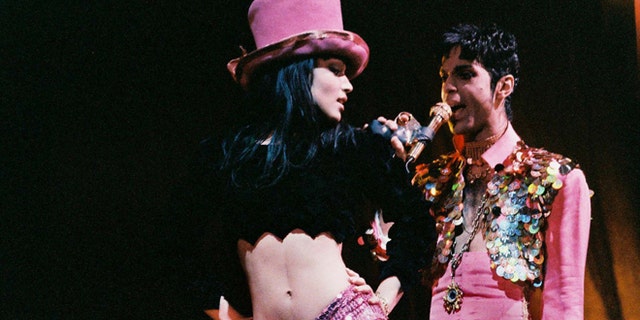 NEWYou can now listen to Fox News articles!
One of music's most legendary performers has died. Prince Rogers Nelson's body was found Thursday at his 70,000-square-foot Paisley Park mansion in Minnesota. He was just 57 years old.
Fans may remember one of Prince's most lyrical songs, 1995's "Most Beautiful Girl in the World," but few know who the inspiration for it was.
Mayte Garcia, a Puerto Rican 16-year-old belly-dancing teen, met the pop star backstage at a show after he'd seen a video of her dancing. According to the Mirror, the two stayed friends, and eventually she joined his band.
The couple got married on Valentine's Day in 1996. Garcia was 22, and Prince was 37.
She became pregnant quickly, but the couple's child, a son named Boy Gregory, died a week after his birth due to Pfeiffer syndrome – a rare genetic disorder that prevented his skull from growing normally.
The couple got pregnant again, but it resulted in a miscarriage.
Garcia told the Mirror, "To lose two babies is really scary... It really caught on me emotionally, physically, everything. It took me at least 15 years to get over it, and still, to this day, I miss my son. I believe a child dying between a couple either makes you stronger, or it doesn't. For me, it was very, very hard to move forward, and for us as a couple, I think it probably broke us."
Even at their best, things at home could get strange, she has admitted. For instance, she never knew what to call him since at the time he was trying to rename himself as an unpronounceable symbol that drove the media to refer to him as "The Artist Formerly Known as Prince."
"Technically I was married to the Symbol. Our house was full of them, but I just couldn't say the word. When we got married, it was much easier. If someone else was there I could say, 'Could I speak to my husband please?'"
The couple separated in 2000, and Garcia began dating Motley Crüe drummer, Tommy Lee. They were together for two years.
Two years ago she adopted her daughter, Gia, who is now three-and-a-half.
Today at 42, Garcia has a viable acting career, with a leading role in the new ABC series, Kingmakers, and is a professional choreographer.
The cause of Prince's death remains a mystery, but the rocker reportedly came down with a "severe" case of the flu six days before being found unresponsive in an elevator inside his $10 million home.
The Associated Press contributed to this report.