In Mexico, Faith And Fútbol And Politics Are Mixing In Unexpected Ways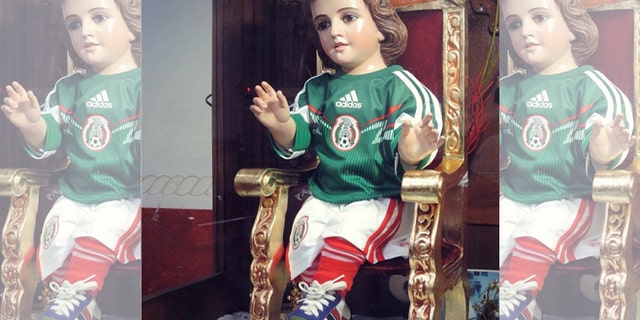 NEWYou can now listen to Fox News articles!
MEXICO CITY – A week ago, María de la Luz Montero prayed to the Holy Child of Miracles, a small statue normally popular with parents of sick kids. She prayed, however, for soccer success to the holy child, who is dressed for the World Cup in Mexico's tri-color uniform: green shirt, white shorts and red socks.
After Mexico crushed Croatia to advance to the knockout round, Montero returned to thank the child.
"We come here to encourage the team, request that they win," she told Fox News Latino at the San Gabriel Archangel parish in a downtrodden Mexico City barrio surrounded by stalls selling everything from pork rinds to pirated versions of the FIFA 14 video game.
Faith and fútbol mix in Mexico, where the national team needed a miracle last fall just to make the World Cup. It scraped through qualifying against Central American squads and only survived thanks to two last-minute U.S. goals against Panama.
Now El Tri is playing like a world-beater, inspiring outpourings of patriotism and confidence in a country more accustomed to struggling on the world soccer stage.
Polls show that the pre-tournament skepticism evaporating.
A poll published Tuesday by the newspaper company, Grupo Reforma, found that 77 percent of respondents said Mexico would beat Holland, the runner up four years ago in South Africa, in the round of 16.
A victory would vault Mexico in the quarterfinals, where the team hasn't played since 1986, when it hosted the tournament. Twenty-nine percent of respondents said Mexico would reach the finals, up from 8 percent in Reforma's pre-tournament poll.
Other, less formal measures show a similar surge in optimism – or at least support – such as jersey sales, which are traditionally strong in Mexico regardless of the economic climate.
"They're regaining confidence," Pedro Aldan, who sells knockoff jerseys and flags at an intersection in one of Mexico City's richest neighborhoods, says of his customers.
He reported slow sales in the lead-up to the Cup, but a boom ever since Mexico won its first match over Cameroon.
Critics are coming around – even those who expressed disenchantment with the direction the Mexican Football Federation (FMF), which oversees the national team, has taken and said that not qualifying for the World Cup might be the only way to bring about change.
"I'm pleasantly surprised by the team's performance and effort," says Juan Carlos Ladrón de Guevara, a Guadalajara engineer and a critic of the FMF.
"The qualifying round was a blunder, where the worst was the arrogance and lack of effort on display."
Analysts are quick to credit the turnaround to new coach Miguel Herrera, who inherited a team needing to beat New Zealand in a pair of last-chance qualifying matches.
"Mexicans usually don't work very well in teams," says barista Alejandra Apreza, repeating an old stereotype about Mexican society and a perpetual excuse for a lack of success in team sports. But she says of Herrera, "He has them playing like a team."
Herrera, known as "El Piojo," or "The Louse," became a social media sensation for his animated sideline antics and past pictures of him as a player sporting a mullet in the 1990s.
Observers say he's serious in his approach, understands his players better his predecessors did and has instilled discipline and professionalism in a squad prone to squabbling and selfish play.
"He's driven the optimism," says Tom Marshall, a Guadalajara-based soccer writer.
The FMF set making the quarterfinals the squad's goal in Brazil, but Marshall recalls Herrera stating at his first press conference, "I want to be there in the final … I'm not booking my plane home until after the final game."
The on-field success comes as Mexico slumps economically and President Enrique Peña Nieto pushes through an agenda of structural reforms in areas such as energy, the economy and telecommunications.
Opponents of the reforms have questioned why Congress convened debates on the topics during the World Cup, when many Mexicans would be fixated on soccer.
Some critics have taken to Twitter, calling on Mexican players to speak out against the president's political agenda – something analysts say is unlikely to happen.
"The influence from the owners and specifically Televisa stops that from happening," says sports marketing expert Héctor López Zatarain, mentioning Mexico's biggest broadcaster.
Televisa also owns Club América, one of the Mexican league's most important teams—the team Herrera coached, coincidentally, before taking over the reins at El Tri—and is generally loathed by the political left for its influence and perceived proximity to power.
Politics, however, seem far from the San Gabriel Archangel parish.
Montero, like the other local residents, takes pride in the pint-size uniform their Holy Child of Miracles statue wears – right down to its tiny cleats.
"This team is so much better than we expected," Montero enthused.
"They're playing so well."