In a Costa Rica Town, the Surf's Up—And So Is Tourism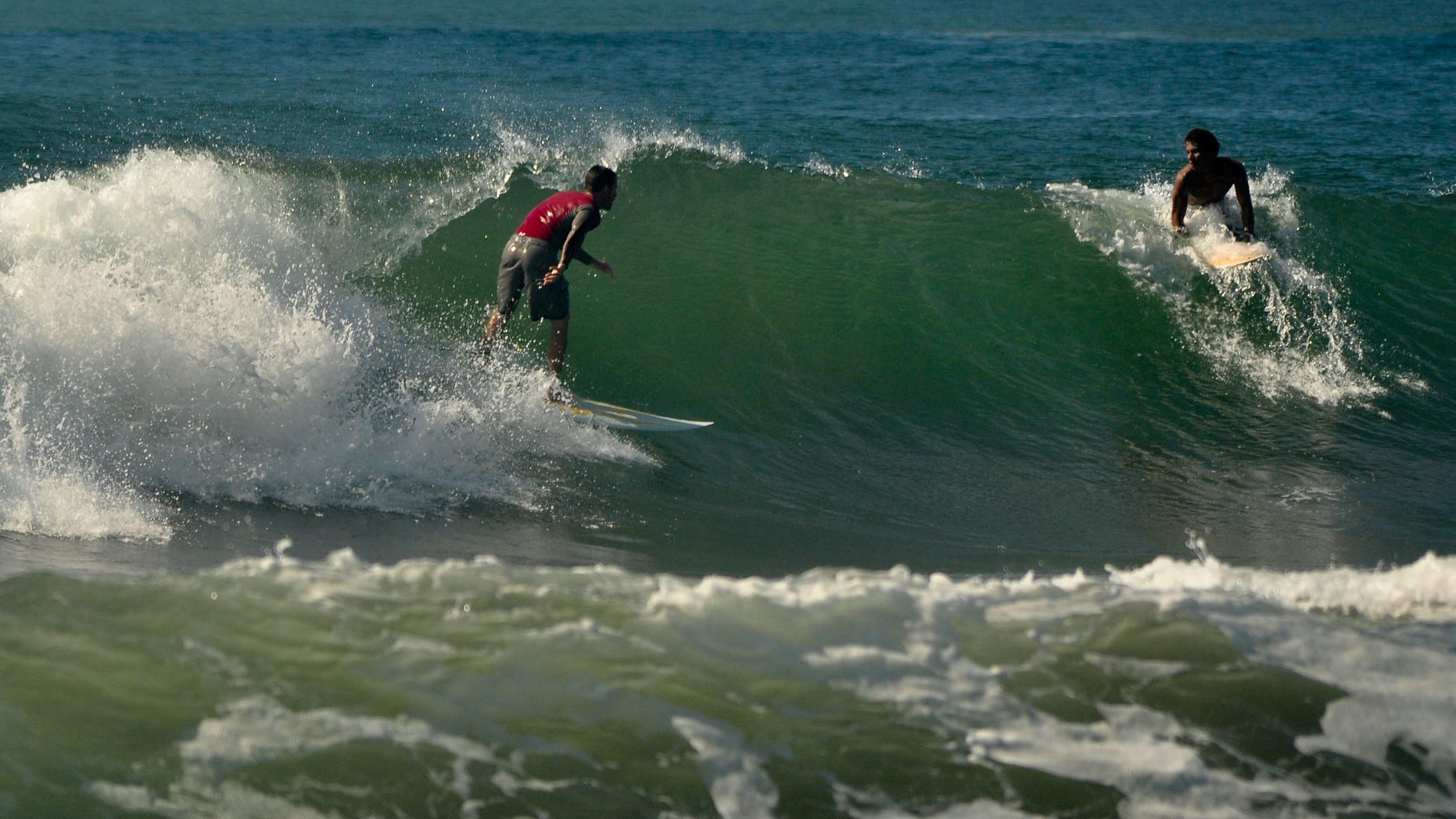 The surf guide wearing the white sunglasses inspects the Pacific Ocean intently for several weighted seconds, then snaps his attention back to the tourists walking behind him on the rocky hill top above Camaronal Beach, outside the town of Nosara in Northwestern Costa Rica.
"It's big," Graham Swindell says, smiling, then returns his gaze back to the sea. "It is big. It is what we came here for."
Ahead, a vista of incoming waves rolls towards the darkened sand. The tourists behind him mirror Swindell's excitement. This is why they came: world-class surfing and an idyllic, seemingly-untapped atmosphere, where the best wave is always the next one.
The visitors themselves are also part of a welcomed wave: A surge of board-wielding tourists finally returning to surf the famous breaks of Costa Rica's Pacific Coast. In this small corner of Latin America, Swindell's group serves as a positive indicator that the global economy is bouncing back.
"I'm nervous and excited," says Peter Pelham from Bethesda, MD, holding his freshly-waxed surf board. Pelham, a personal trainer and married father of two, is in Costa Rica celebrating his 49th birthday with his brother and friends. "Biggest wave I have ever seen. Am I ready for this?"
After taking 30 minutes to paddle out and meet the sets, Pelham and his group prove that they are more than ready by spending two hours thrashing against the face of the waves. The four men are the only ones in the water until a couple local surfers join in.
Swindell takes photos of his clients so they can show them to their families back home and post them on Facebook. A couple of European women tourists sun on the beach and occasionally stare out at the surfers. It is a pristine scene.
"It's sort of an escape from the pressures of home life and U.S. What can be better than a jungle beach paradise?" Pelham says later. "Five days here are worth three months back home."
Nearby Camaronal is a small beach town called Playa Guiones, but known as "Nosara Beach" by nearly everyone. The small community is made up of American expatriates — who began arriving 30 years ago — and local Costa Ricans, or Ticos.
The economic recession that hit the U.S. and reverberated throughout the world was felt harshly in this tight-knit community. The last two years, there was a pronounced drop in the surfers, eco-tourists and yoga students who normally account for most of the visitors here.
"This season seems better than last season, and the season before was real bad," Swindell says. "Last year, it was good for two months, then it just died."
Swindell, 35, is a photographer who left his cozy IT job in Florida three years ago, in order to follow his dream and surf in one of the top spots on earth. After going through his life savings, he now takes photos of tourists and locals surfing. For the visitors, the pictures serve as souvenirs. For the locals, they secure bragging rights on Facebook and at local hang outs.
American Bram Shook, 40, has lived in Nosara for over a decade, ever since visiting on vacation and deciding to stay.
"I wanted to get out of the suit and get out of the rat race," he says.
A successful realtor here for Century 21, he reports that business boomed between 2002 and 2007, then dropped precipitously.
"What happened up there with economy, it happened down here," he says. "Everyone was left with their jaws open because it just happened so quickly."
The drop was devastating, says Shook, who is also a community leader, founding the town's largest private school, Del Mar Academy, with his Costa Rican wife.
However, this year has shown an upswing. In January, a World Economic Forum report said Costa Rica was the 5th most-popular country for Americans to visit in the Western hemisphere.
Has surf tourism played a role in this upward growth?
"Without a doubt," says Shook. "Surfing is a billion dollar industry and growing. The Americans that come down here think they are Spiccolli from 'Fast Times', but they are also executives, and professionals who come down with their families. They surf. The wives are here with kids as they play in the sand."
Over the winter, Playa Guiones for the first time had a fashion show. A couple hundred locals—Ticos and expats—came to the show. Ostensibly, they were there to help support a local educational charity, but many in attendance came to gawk at the production, which had D.J.s spinning House music and flashing lights straight out of a South Beach night club.
Andrey "Cacho" Gutierrez, 23, is a local surf instructor who has taught at several surfing schools in Nosara. Gutierrez has long, blonde-tipped dreadlocks that hang down to his dark brown shoulders, a look popular among the local Tico surfers. One of the first attendees at the show, Gutierrez says he hopes to one day own his own surf shop at Play Guiones where American and European tourists will come for surf lessons.
With the renewed burst in tourism, does he worry about the locals losing their culture?
"No," Gutierrez responds. "We don't feel like Indians, and they are settlers. We are all human beings and we like to share with people."
He pauses for a second.
"Costa Rica is for sale, and I live off tourists," Gutierrez concludes, as Justin Bieber plays in the background, and a model in a swimsuit walks down the runway.
Serafin Gómez is the Miami Bureau Producer for FOX News Channel.
Follow us on twitter.com/foxnewslatino
Like us at facebook.com/foxnewslatino