How walking through fire helped ease one man's depression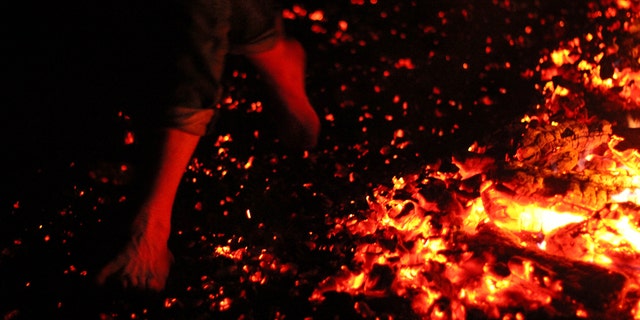 For most of his life, 50-year-old Jim Goldfuss, of Westbury New York, has struggled with depression. "When it came to self-confidence and self-esteem, there was none," he told Fox News. "I probably spent most of my life trying to be the person other people wanted me to be or the person I thought other people wanted me to be."
He carried the mental illness with him as he raised his children, blaming himself, the coach, when they didn't win a t-ball or soccer game, as well as through a family death, when his brother Brian committed suicide in 2006. After the tragedy, Goldfuss contemplated suicide himself, which prompted him to see the second psychotherapist in his life — yet those sessions did not help, just as they hadn't the first time.
"I found myself telling them what I thought they wanted to hear so they wouldn't think I was being difficult," Goldfuss said.
WOMAN'S HEARTBREAKING FACEBOOK POST ABOUT DEPRESSION GOES VIRAL
But after poring over several self-help books, including one by self-help guru Tony Robbins, he stumbled upon an unconventional treatment and mustered the will to give it a shot: firewalking, which involves walking 15 feet across 800-degree coals.
To his surprise, the approach brought him a sense of relief.
"It was the first time I could take a step back and say, 'I'm getting somewhere with this.'"
What is firewalking?
Firewalking is an ancient tradition in cultures all over the world, but Tolly Burkan, founder of the international firewalking movement, brought the practice to the West in 1977.
Experts say firewalking has gained momentum in recent years as more people are looking for new ways to cope with life's challenges.
In the United States, about 10 percent of people ages 40 to 59 suffer from depression, according to the Centers for Disease Control and Prevention (CDC). And in 2014, about 15.7 million adults in the U.S. had at least one major depressive episode, according to the National Institute of Mental Health (NIMH).
Depression is often treated with prescription medication and psychotherapy, while others may find relief in alternative treatment like yoga, meditation and supplements. For those who see those more common treatments fall short or fail, firewalking can help, experts say.
GWYNETH PALTROW'S GOOP OFFERS A RIDICULOUS DEPRESSION CURE
Some people are drawn to the fire for spiritual reasons, while others use it for motivation and personal growth, Kevin Axtell, a master firewalking instructor in Twain Harte, California, told Fox News. "Firewalking is a fun and adventurous yet reasonable way to push one's limits," he said.
Firewalking is believed to help people with depression and anxiety by helping to boost their confidence and self-esteem. "It allows participants to redefine who they are and what they're capable of achieving," Axtell said.
How overcoming fear can improve mood
Research shows that when you face your fears, the power they have over you weakens. In fact, Exposure and Response Prevention (ERP), a type of Cognitive Behavior Therapy (CBT), can help treat Obsessive Compulsive Disorder (OCD).
For Goldfuss, overcoming that hurdle was a major benefit of firewalking.
"Fear kept me from doing things that I was perfectly capable of doing," he said.
Firewalking can work in the same way CBT does by allowing people to change their thoughts so they can improve their mood.
CAN VITAMIN DEFICIENCIES TRIGGER DEPRESSION?
"One of the biggest things about firewalking is [it's] challenging your paradigm of what you think is possible [and] what you think is real in life," Dennis Carroll, a certified life coach and firewalk instructor in West Chester, Pennsylvania, told Fox News. "The fire is just a metaphor for what's possible and what's not possible in your life," he said.
Firewalking events are held in a seminar format, and they usually include a motivational speech from the instructor and an opportunity to share your story with others.
But it's not a magic pill …
Although firewalking can help people make changes in their lives or feel better, it's unclear how effective it is for depression and anxiety, or how long the benefits last, especially when patients return to their day-to-day lives, Melanie Greenberg, PhD, a practicing psychologist in Marin County, California, and author of "The Stress-Proof Brain: Master Your Emotional Response to Stress Using Mindfulness and Neuroplasticity," told Fox News.
"Some of it could be the feeling of bonding with a whole group of people and overcoming fears together, and the sense of connection and celebration that creates," Greenberg said. There can also be a placebo effect, whereas there's an expectation that it will help, she explained.
Experts agree that firewalking shouldn't replace therapy or medication, and it isn't a magical potion. Just as someone dealing with a mood disorder ideally ought to employ a variety of treatment tools, people must continue to deal with their own challenges and find things that will help them feel better. "You might be able to cope better with [depression], but I don't think it can all be cured with belief," Greenberg said. "Positive thinking alone doesn't work."
MOM'S HONEST POSTPARTUM DEPRESSION POST GOES VIRAL ON SOCIAL MEDIA
Firwalking seminars cost between $200 and $5,000 or more depending on the length and type of program. How hot the coals feel depends on the type of wood used, but it's common for people to say they feel like warm popcorn. "For most people, there's no sensation of extreme heat," Axtell said.
Experts say a small percentage of people will get minor burns on their feet, but firewalking can carry a relatively lower risk than other activities. "If thousands of people go skiing in one day, someone is breaking their leg," Axtell said.
Jim Goldfuss credits Tony Robbins with saving his life and said his firewalk was the catalyst for helping him to continue re-framing his thoughts and overcome his fears.
Since the event, he has discovered meditation and taken an acting class, and he was recently hired to act in a commercial. Now, he's regularly hired as a public speaker to share his journey.
FOLLOW US ON FACEBOOK FOR MORE FOX LIFESTYLE NEWS
Although depression and anxiety still linger, he said he can recognize the signs quicker and change his thoughts before they become overwhelming.
"The waves are still there, but I can control it a lot better," he said.