How age affects your risk of getting drunk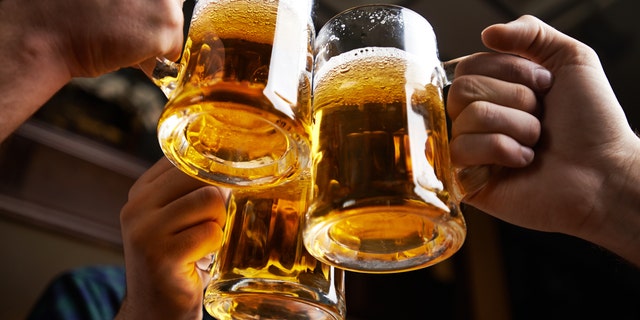 NEWYou can now listen to Fox News articles!
As you get older, you may notice that you don't rebound from a night of drinking quite like you used to. That's because, as we age, alcohol's effects on our bodies become more and more exaggerated, George F. Koob, director of the National Institute on Alcohol Abuse and Alcoholism (NIAAA), told Fox News.
MAN DRINKS 13 BEERS DURING HALF MARATHON HE DIDN'T TRAIN FOR
While the NIAAA recommends that men consume no more than 14 drinks a week, that number plummets to 7 drinks a week for men over 65. (While the NIAAA doesn't have a separate recommendation for women over 65, younger women are encouraged to drink no more than 7 drinks a week.) The risk increases when you mix alcohol with other medications — even things like allergy or sleeping pills, Koob said.
"It's not that anyone is doing it on purpose, but if you don't know about it, you can find yourself more intoxicated than you would ever have dreamed," he explained.
WHY DRINKING TOO MUCH DOESN'T HAVE TO LEAVE PERMANENT DAMAGE
Fox News spoke to Koob and Dr. Andrew Nye, a family practice physician at Orlando Health, about just how alcohol's effects change with age:
1. Your quality of sleep declines.
Alcohol will help you fall asleep initially, but when you do wake up, your brain will be super wired, Koob said. This is because your brain is experiencing a rebound hyper-excitability, he explained — an effect that is more dramatic the older you get. And, because alcohol is a diuretic, you'll have to get up and go to the bathroom even more.
5 UNEXPECTED BENEFITS OF DRINKING YOU NEVER KNEW
2. Your memory will take a greater hit.
Because, as you age, your body becomes less effective at clearing out the toxins produced by alcohol, the effects on your brain become more severe, Nye said. He noted that these toxins can damage the protective coverings of nerve cells in the brain, which can affect memory.
3. Your balance gets a lot worse.
As you get older, you become more sensitive to alcohol's effects on coordination and balance, Koob said. And, with increased age, those falls become even more dangerous.
4. Your speed and accuracy grow more impaired.
Tests have shown that speed and accuracy in individuals is more impaired for people over 55 versus people under 55, Koob said, making it even more dangerous to drive under the influence.
FOLLOW US ON FACEBOOK FOR MORE FOX LIFESTYLE NEWS
5. You may have worse hangovers.
While most current evidence is anecdotal, Koob said, many people report more severe hangovers for less amounts of alcohol as they get older. Nye agreed, noting that because our liver processes alcohol less efficiently as we age, we may experience more severe hangover symptoms, including dry mouth and headaches.