Houston school district chief serenades board with mariachi music after they appoint him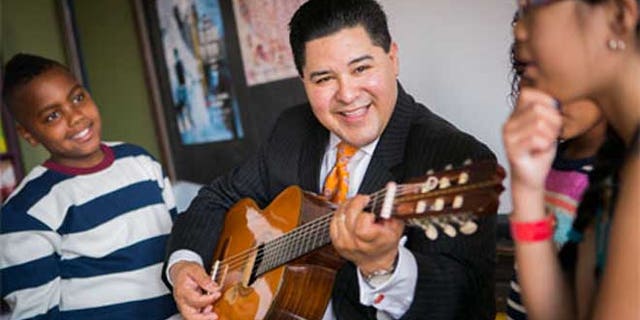 NEWYou can now listen to Fox News articles!
The installation of school superintendents usually is a dry, methodical affair.
But not for Richard Carranza.
Carranza, the son of a hair dresser and sheet metal worker from Mexico, marked his appointment as superintendent of Houston schools recently by belting out the Mexican classic "El Rey" as high school mariachi musicians played behind him.
At the board meeting where school district officials unanimously voted for him to head the largest school district in Texas, the 49-year-old recalled not knowing any English when he started classes as a child.
The Board of Education selected Carranza after conducting a national search. Board officials determined that Carranza had the qualities identified as crucial by the thousands of parents, teachers, and other residents of the community, according to the Houston Fox station.
"Mr. Carranza stood out in a field of excellent candidates," said HISD Board President Manuel Rodríguez Jr. in an article on the district's website. "His personal journey, including his upbringing as the child of hard-working immigrant parents and his strong record of collaborative leadership, make Mr. Carranza the right person to guide Houston schools into a promising future."
Carranza comes from California, where he headed the San Francisco Unified School District.
He has been a teacher, and also was an administrator for the Las Vegas school district.
On the school district website, he is quoted as saying that he was drawn to Houston because it embraces its diversity and it is vibrant.
"Houston is a model urban school district," Carranza said. "While others are closing schools because of declining enrollment, HISD is growing and opening new schools. This is because the community here still believes in public education. Houston supports its children, and that is so important, because we cannot do this work alone."
Some Hispanics in Houston said they felt inspired by Carranza.
In an essay titled "The Mariachi Superintendent: A Signal of Hope for Hispanics and America" that was published Thursday in the Houston Press, a local weekly newspaper, Rolando Rodriguez recalled feeling marginalized as a student in Texas.
"Carranza sung his way into my heart last week inflating it with optimism, because he reminded me that this country is about what's possible," Rodriguez wrote. "It's possible that in an atmosphere of hostility toward a community, you can be a member of that community and still hold the highest, most important positions."
Carranza signed a three-year contract that carries an annual salary of $345,000. He received his bachelor's, master's, and doctoral degrees in education from Arizona colleges.
Carranza also serves on the Association of Latinos and Administrators Board of Directors.
He always has held a special place in his heart for his Mexican roots, and has woven that passion into his academic career. More than 20 years ago, when he was a teacher at Pueblo High School in Arizona, he founded a mariachi club.
Even then, he told a reporter for the Tucson Citizen, his dream was to establish Mexican music and culture in the school and community, and to share its special qualities with others.
"I want them to be proud to be mariachi," he said of the students who were part of the mariachi club. "I want them to feel proud to put that [mariachi] uniform on and even more proud to go out and represent their school and their community."
"Music is a bridge to their past," he said, "but it's also a bridge to their future. It's a perfect way to connect with people."
Like us on Facebook