Holy Roller: Roman Charity To Auction Off Pope Francis' Harley-Davidson Motorcycle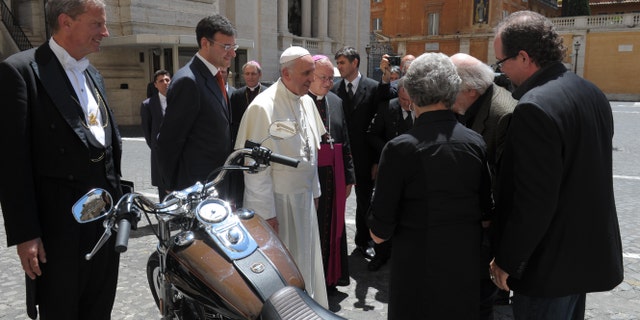 Its previous owner could have used it to ride to church every Sunday, but probably didn't.
Last June, Pope Francis was given a 1,585cc Harley-Davidson Dyna Super Glide by the American motorcycle manufacturer, along with a leather jacket bearing its logo, to mark the company's 110th anniversary. On Feb. 6, the Holy Hog will get auctioned off in Paris to benefit the charitable arm of Rome's diocese, Caritas Roma.
It isn't clear whether or not the Pope ever actually slung his cassock onto and rode the bike before turning it over to the charity, even after having given up the Mercedes-Benz "popemobile" in September, although he did sign its gas tank.
According to the Independent in London, the Harley will be auctioned off by the U.K. house, Bonhams, in Paris next month. Caritas Roma will use the proceeds to renovate a hostel and soup kitchen in central Rome.
Ben Walker, head of motorcycles at Bonhams, told the newspaper: "We are incredibly honored to be selling this item on behalf of Caritas Roma. We hope to be able to do both Pope Francis and Harley-Davidson proud by raising a significant amount of money for a very worthy cause."
The auction house estimates that the bike could bring in $16,000 to $20,000.
Reuters news agency reported that the jacket, also signed by the Pope, will be sold separately.
Follow us on twitter.com/foxnewslatino
Like us at facebook.com/foxnewslatino