Greedy squirrel steals holiday treats left for delivery workers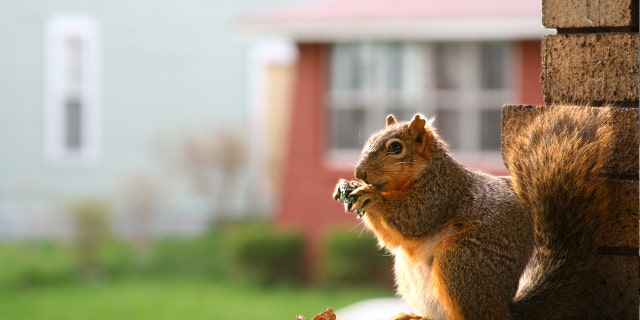 Aww, nuts!
A New Jersey family's holiday spirit was crushed when a thief swiped all the expensive chocolates from a "treat table" they'd put out for delivery people through the Christmas season.
But when they set a trap to catch the Grinchy crook in the act, they discovered it was actually a comically obese squirrel — and the sticky-fingered vermin's criminal capers ended up stealing their hearts as well.
TOWN'S LIFE-SIZED ELF ON A SHELF, ZIPPY, RETURNED AFTER MISSING FOR TWO DAYS
"We spot the FATTEST squirrel. I mean, this squirrel is so obese — a jolly ol' chap — he must be prepping for a decade of winters," Maplewood mom Michele Bourdreaux wrote in a blog post about the bizarre saga.
"This squirrel went from being the biggest jerk ever to becoming the greatest fuzzy freak I've ever not quite met."
Bourdreaux explained that she and her clan set up an elaborate display of treats outside their home for delivery workers coming by — and this year's display included Carmex lip balm, Ghirardelli chocolates, tissues, hand warmers and other snacks.
BELOVED JANITOR WHOSE DOG DIED GETS 'PRECIOUS' SURPRISE BY CO-WORKERS ON HIS BIRTHDAY
But within hours of setting up this year's spread Monday, all of the chocolate was gone.
"I couldn't believe it. Why would someone do such a thing?" the mother of three wrote. "This thief took the good stuff. And I wanted to cry."
Bourdreaux and her "surveillance nerd" hubby, Tony, put up cameras to catch the chocolate thief — but the footage revealed the surprising, and adorable, culprit.
They put the chocolate in a squirrel-proof container and left some nuts and birdseed for the rodent — but the fuzzy fiend just keeps coming back for the good stuff, and has since gnawed through Ricola candies, spearmint gum, chocolate-covered pretzels, bags of popcorn and run off with the lip balm, Bourdreaux told The Post.
FOLLOW US ON FACEBOOK FOR MORE FOX LIFESTYLE NEWS
"He looks directly at us, completely and totally brazen, it's very bizarre," she said.
Bourdreaux's favorite bandit isn't the only squirrel terrorizing Jersey residents — one managed to destroy a popular holiday light display in Sea Girt last week.
This story originally appeared in the New York Post.