Girl asks Santa for blanket, food in heartbreaking Christmas letter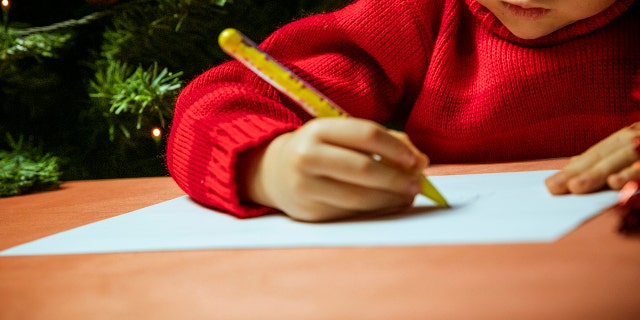 A 7-year-old girl's heartbreaking letter to Santa has encouraged concerned residents in Edinburg, Texas ─ and even overseas ─ to reach out with an act of kindness.
Last week, first-grader Crystal Pacheco was instructed to write down her Christmas wishes as part of an in-class assignment, and her teacher was shocked to find that Crystal merely asked for a ball, some food and a blanket, ABC News reported.
SKEPTIC SIX-YEAR-OLD WRITES SCATHING LETTER TO SANTA
"I have binde good this day," Pacheco wrote. "This Christmas I would like a ball and a food. I need a blancet."
Crystal's teacher, Ruth Espiricueta, later shared the girl's troublesome letter on Facebook, writing that her heart breaks "when I hear [students] ask for things that we sometimes take for granted."
Espiricueta told ABC News that Crystal was the only one of her students to ask for such basic items.
MALL SANTA WITH 'NAUGHTY' AND 'NICE' TATTOOS TOLD TO TONE IT DOWN
In response to Espiricueta's post, commenters began asking how they could help or where they could donate.
"What size does this little girl wear?" asked one commenter.
"Just reading this from the UK," wrote another. "I would love to send something over via Amazon. Is there a school address we can use?"
One woman, Nashley Garcia, even arrived at the school with 20 blankets to pass out to students, as well as three balls and a special Avengers blanket for the unnamed student in Espiricueta's post, who she initially believed to be a boy, The Washington Post reported. After meeting Crystal, Garcia ran back out for a Shopkins blanket, she said.
Espiricueta later shared the address of Monte Cristo Elementary for the dozens of others who also wished to send donations.
As of Saturday, the school had received more than 600 blankets, ABC reported.
Pacheco's mother, Maria Isabel Cortez, further told ABC that her daughter had asked for the ball to share with her brother, and "to have food at the house and a blanket because the house is too cold."
Nevertheless, Crystal's teacher said she never would have guessed the girl was in such need, at least not judging by her demeanor in class.
"I had no idea she was going through hard times being that she is always at school with a big smile," Espiricueta told ABC News.
FOLLOW US ON FACEBOOK FOR MORE FOX LIFESTYLE NEWS
According to The Washington Post, around 37 percent of the population of Edinburg, a city of roughly 87,000 people, lives below the poverty line.