'Flying' bridal veils go viral as the new wedding fad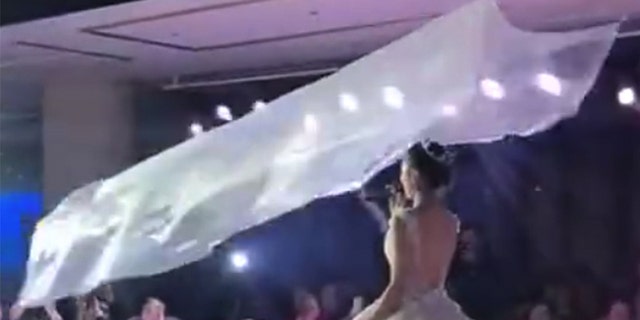 Move over photo booths and DIY wedding bands, there's an acrobatic new wedding trend in town and people can't get enough of it.
The latest over-the-top wedding fad has popped up in China and it involves a system of pulleys, ceiling rails and weights to "fly" a bride's veil to her and drop it on her head.
PAINFUL NEW ENGAGEMENT RING PIERCING TREND GROWING IN POPULARITY

The result of what is described as a "flying veil" is an eye-catching show that – unless you can get two birds to delicately drop a veil on your head – is as close to a Disney-style fairy tale as you can get.
According to Shanhaiist, the "wedding craze" has been catching on. A video of the flying veil posted to the media outlet's Facebook has received over 12 million views and 120,000 shares as of Monday evening, a week after it was posted.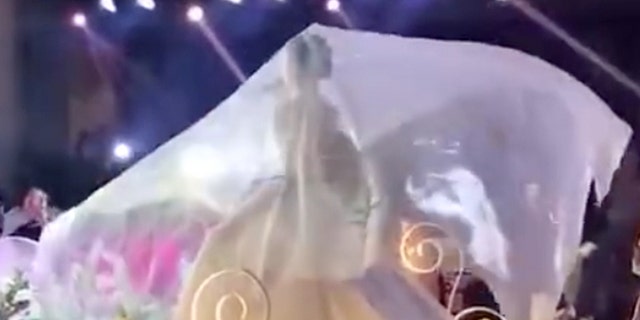 In the video, a bride is seen standing in the middle of the aisle as her veil whizzes toward her on tracks, before detaching and delicately falling down onto her head.
Thousands shared positive reactions about the extravagant veil delivery, calling it "cool" and "beautiful." However, not everyone is on board with the magical display.
FOLLOW US ON FACEBOOK FOR MORE FOX LIFESTYLE NEWS
"Waste all that money on one day??? Why!!!???" one upset user commented.
Another felt the flying veil was "creepy."
"The veil looked like a somekind [sic] of poltergeist ghost hovering around to engulf and possess someone on its way."