Fitness blogger defends sports bras as acceptable gym attire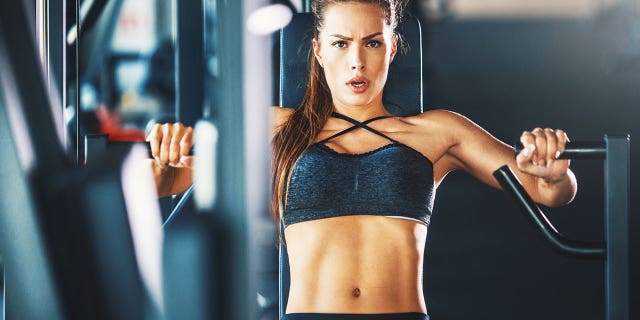 When you're heating up at the gym, it's tempting to forgo longer layers, especially in the summer months. However women often feel judged by their fellow gym-goers for showing some skin. Which is why one fitness blogger took to social media to send an important message about gym attire.
Louise Aubery posted side-by-side photos to Instagram to argue that no one should feel like they're being shamed for what they wear to work out.
In the image on the left, Aubery is wearing long sleeves and pants, which she captioned "Acceptable gym outfit." In the image on the right, she's rocking a sports bra and shorts, captioned "Also acceptable gym outfit."
In her post, Aubery wrote about a situation she encountered while working out at a CrossFit gym recently. She saw a female acquaintance getting seriously sweaty through her pull-ups routine in a long sleeve top.
DOES YOUR STOMACH ACTUALLY SHRINK IF YOU EAT LESS?
Later in the locker room, Aubery asked the woman why she didn't strip down to her sports bra during her reps. "She hesitated, and answered 'I do not feel comfortable wearing a sports bra at the gym since a guy told me I wanted to show off my body,'" Aubery wrote in her post.
"So guys can train shirtless but women don't have the right to work out in a sports bra? HELL YES YOU CAN GIRL," she wrote.
Aubery's international social media following embraced her body-positive post with great support, with over 20,000 likes as of Monday morning.
FOLLOW US ON FACEBOOK FOR MORE FOX LIFESTYLE NEWS
"Do not let anyone tell you how you should behave. Sports bra have been created FOR this purpose, so please, do not feel ashamed wearing it at the gym. For your health, for you comfort, and even more simply for yourself," she wrote.