First-generation Nebraska high school students get tools to succeed in college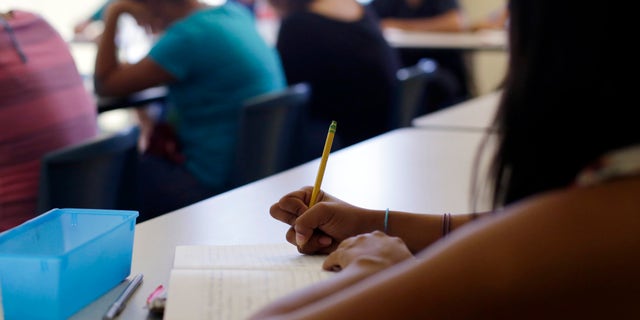 NEWYou can now listen to Fox News articles!
GIBBON, Neb. (AP) – Gibbon students are learning all they can about preparing for college, starting as early as their sophomore year of high school.
The Kearney Hub reports that all of the students enrolled in the Pathways For Success class will be the first in their families to attend college. To achieve this goal, Gibbon High School Spanish teacher Abby Jones is giving them the guidance they need.
"We learn about how to apply for scholarships and how to put together a resume," Jones said. "Before we started this program, I worked with four students individually. With the help of teachers and the guidance counselor, I helped them do what they needed to do to get into college. This year we started offering this as a class."
"I didn't know what an ACT was or how to do a resume," junior Kelly Tovar said of her knowledge before enrolling in the class.
The Pathways for Success class is offered this year to sophomores, juniors and seniors, Jones said.
"The freshmen have too many other required classes to fit it in this year, but we're hoping to fit it into their schedules in the future," she said.
Jones said the class meets daily. During class time, students share their experiences in their activities. They also learn who is appropriate to ask to be a reference for scholarships and what to include on a resume, Jones said.
"I could tell by the fourth draft of my resume it looked better and seemed more professional," sophomore Keysha Mendez said.
Senior Mauricio Martinez said he hopes the class will help him learn how to get as much scholarship money as possible for college.
"I know I can't do it myself," he said.
Senior Noemi Escandon hopes to get a full ride to the University of Nebraska at Kearney and is working hard toward that goal.
Jones hopes to grow the program.
"I'm really excited that this opportunity is open to all the students who need it," she said. "The kids are really working hard."
In addition to college prep, Jones encourages her students to get involved in extracurricular activities at the school and to volunteer in the community.
Mendez said she and other students volunteered for two weekends at the Nebraska State Fair.
"We worked in the Welcome Center. We were in the lost-and-found place and looked through items there when people came by to see if their things were there. We helped with the kids on the playground."
"We did interpreting, too," Avigail Corona said. "We interpreted for the Welcome Center and for games. Every two weeks, we'd help translate the Head Start newsletter, too. Each of us is given parts of it to interpret."
Senior Lisa Moore volunteered at the Harvest of Harmony Parade in Grand Island.
"I helped welcome the band members that participated," Moore said.