Fiona the baby hippo photobombed a couple's engagement pics at the Cincinnati Zoo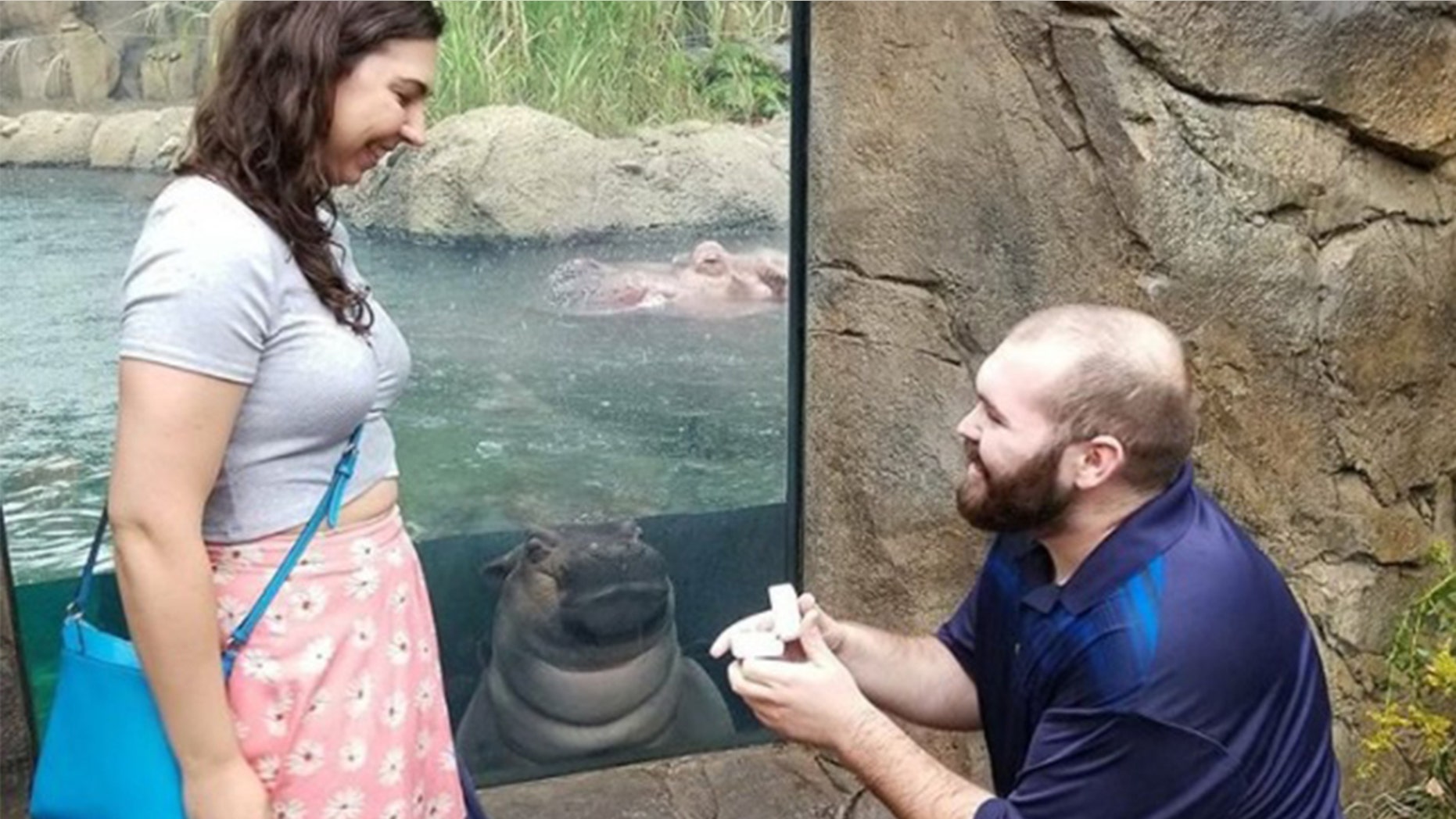 Some couples get engaged surrounded by family and friends, but Nick Kelble and Hayley Roll had an unlikely witness for their special moment.
Earlier this month, Kelble and Roll were visiting the Cincinnati Zoo to see their favorite hippo, baby Fiona, when Kelbe decided to pop the question to his girlfriend.
WOMAN'S APOLOGY CAKE TO POLICE OFFICER GOES VIRAL
"We went to the zoo for our One Year Anniversary and Fiona was in the window," Roll told The Daily Buzz. "Nick, my boyfriend, and I were waiting in line to get our photo taken with Fiona and I gave my cell phone to someone to take the photo and when I turned back around, Nick was on one knee proposing."
From the looks of, Fiona was just as happy to be part of the engagement as the couple was to have her there. "We are huge #TeamFiona fans and have been following her since she was born," said Roll.
The newly engaged couple shared the photos on Instagram, writing: "We're so happy Fiona could be there on our special day ❤ here's to many more years of going to zoos with you."
FOLLOW US ON FACEBOOK FOR MORE FOX LIFESTYLE NEWS
Thanks to Fiona's photobombing skills, the couple's pictures quickly went viral. But Kelble and Roll aren't the only people to have a surprise guest join their important pics.

Another bride-to-be recently asked her brother, Jesse McClaren, to shoot her engagement photos. But when she got them back, she discovered McClaren had put a creepy spin on them by photoshopping Pennywise the Clown, from the film "It," into every shot. McClaren's sister embraced the funny prank and ended up using one of the edited pics for her Save the Date announcement.