Fashion Blogger Jillian Mercado Shines, Inspires In Diesel Clothing Ad Campaign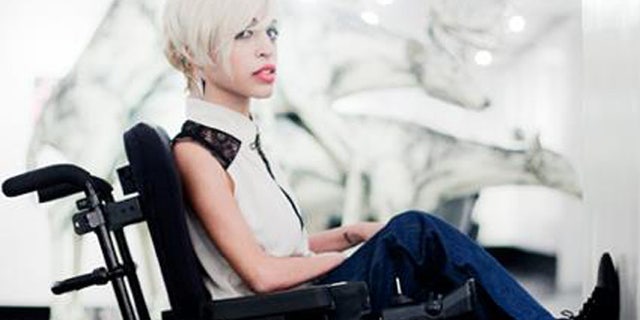 Jillian Mercado is not your typical model – heck, she is not even model by trade: She's a fashion blogger and magazine editor. But last year she took a leap of faith, got in front of the camera and she looked fabulous.
The 26-year-old appears in the recently released Diesel clothing spring ad campaign wearing a jean dress. Her blonde hair and red lipstick make her look fierce, but that is not what is catching people's eye; it's the fact that Mercado is sitting in a wheelchair.
The native New Yorker of Dominican parents suffers from spastic muscular dystrophy, which has kept her wheelchair-bound since age 12. But it has not stopped her from working in an industry that usually looks down at people with disabilities while promoting unachievable perfection.
"I think I wanted to be a part of the fashion industry before I even knew what the fashion industry was," the bubbly Mercado told Fox News Latino. "I was always into clothes and fabrics and colors. Every time my mom took me and my sister to Macy's I would be like 'oh, this goes with this and this fabric.' I was maybe six."
She said it did not become a serious career pursuit until she was in college at Florida International University. But unlike many people that looked to get into fashion, Mercado did not want to design. Instead, she wanted to be behind the scenes – a passion that was solidified when she interned at Allure magazine.
"It was amazing," Mercado said. "It was so cool to be a part of that world. I saw six issues being put together front to back."
A young woman wise beyond her years, Mercado said since she jumped in – or rolled – into the fashion industry, she has gotten her share of cutthroat criticism and negative comments, but she doesn't let it get her down or discouraged.
"It's not that I don't see it, it's just that it doesn't affect my life," said Mercado of her critics. "I love my job. I love what I do … and their comments are not going to push me into a corner. It's like, 'I'm sorry, but YOU suck.'"
It was this attitude that motivated Mercado to get out from behind the camera and take part in the Diesel ad campaign.
"I knew Nicola (Formichetti, the ad campaign's artistic director) and I saw on Facebook that he was doing a casting call," Mercado told Fox News Latino. "In a 'aha moment' I told him that it would be great to do the shoot, not thinking that he would take it seriously."
But he did and they chose her.
"I had to pinch myself several times to make sure it was real," Mercado recalled. "I said 'Hell, yes!' I think that was my actual response."
The photo shoot was about two months ago and Mercardo kept it a secret from friends and family for a while.
"I didn't want to ruin the surprise," she said. "It turned out amazing."
The reaction to the campaign has been overwhelmingly positive, and any negative was squashed by her supporters, Mercado said.
Among her top supports is her younger sister, Emily, 20, who said she didn't really believe Mercado when she told the family about her involvement in the campaign.
"I thought it was amazing," Emily told Fox News Latino. "The pictures are beautiful."
She said her friends and co-workers keep texting her with their excitement.
"It doesn't surprise me because she is always shooting for the stars," Emily said of her sister. "As far as I can remember, she has always had high expectations… We always expected something like this from Jillian. It's something she would do."
The elder Mercado said she wants to keep this momentum going and has a few projects in the works, but would not go into specifics because nothing is yet set in stone.
"I feel like I have an obligation to get the fashion industry of old-style mentality to change," she said. "What they show, it's not realistic (and) I want to challenge the industry a little more."
Mercado concluded: "I am here to stay, so be prepared."
Follow us on twitter.com/foxnewslatino
Like us at facebook.com/foxnewslatino