Erotic model and sexologist claims nude jogging and skinny-dipping in cold water is key to looking young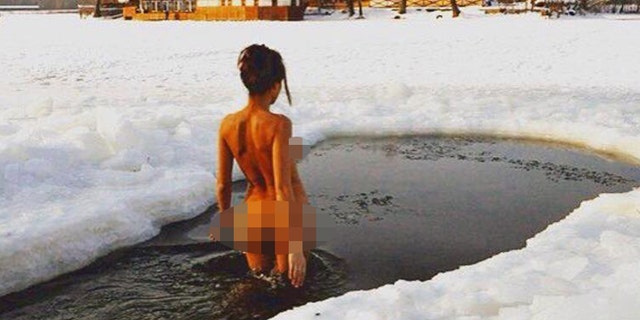 While most of us avoid the cold by huddling indoors under a blanket, one Instagram model and self-proclaimed sexologist claims the key to looking good is embracing winter weather… in the nude.
Inna Vladimirskaya, 32, of Ukraine told the Daily Mail she goes for regular jogs in the nude and takes weekly dips in the freezing river as a way to stay looking young and healthy.
BEING IN A RELATIONSHIP CAUSES WEIGHT GAIN, STUDY FINDS
She's been carrying out this unusual anti-aging ritual for nine years, she said. Every Sunday, Vladimirskaya, often joined by her husband, removes all clothes and goes for a run along the banks of the Dnieper River, one of the coldest in Europe.
She follows up her exercise routine with a plunge into the icy water, which reaches temperatures around 15 degrees Fahrenheit.
"Immersion in cold water makes the blood rush to the internal organs, activating their circulation, which helps break down fat and improve muscle tone," she told the Daily Mail. "It also helps beat muscle and joint pain and rejuvenates my skin, because of the increase in oxygen supply to it."
Vladimirskaya believes the proof of the cold water's benefits can be seen in the animals who regularly live in icy temperatures. "The walrus looks much younger than its actual age because it spends so much time in cold water. Humans can reap the same benefits if they are prepared to put the hard work in," she told the Daily Mail.
FOLLOW US ON FACEBOOK FOR MORE FOX LIFESTYLE NEWS
She does note that she isn't in the freezing water for an extended period of time.
"I just make sure I don't stay in the water too long, and as soon as I am out I dry myself and go straight to my warm car," she said.