Epiphany In The Snow: Latinos Across U.S. Do Their Best To Celebrate Three Kings Day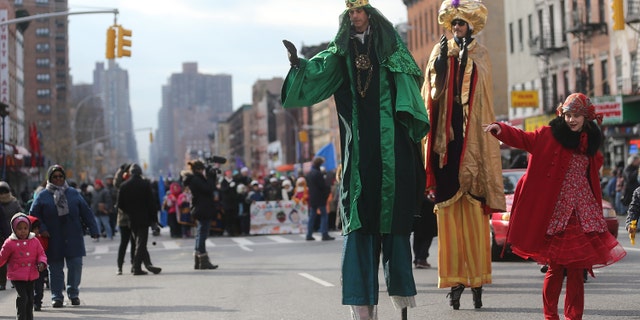 On the Christian calendar, January 6 is the Feast of the Epiphany, the day that the three kings are supposed to have presented the infant Jesus with gifts of gold, frankincense and myrrh —whatever that may be.
In Latin America, the day was traditionally a more important celebration than Christmas, with parades and sweet rosca de reyes being eaten and small gifts left inside the shoes of children.
Of course that has changed over the decades, but still, in Mexico City, a mile-long rosca was created this year. In Madrid, Spain, the Three Kings Parade – one of the world's largest, which normally attracts about a million people – this year included about 20 floats, three camels, three university bands, a mechanical elephant, two cavalry squadrons, a unicorn and a gigantic owl.
Latinos across the United States also took to processions (weather permitting) on Sunday and Monday to celebrate the occasion.
The procession in East Harlem in New York City, which is sponsored by the Museo del Barrio, has been held for nearly 40 years now. This year's edition on Monday is to include marching bands and 14-foot-tall puppets, camels and honorary kings, who this year include the musician Bobby Sanabria. Thousands of school kids and adults crowd the streets.
"We have families that let their kids, you know, not go to school that day and just celebrate with us," the Museo's Gonzalo Casals told NPR in 2012,
Across the Hudson River, in Union City, N.J., hundreds of families crowded into the Park Performing Arts Center despite freezing rain Sunday, to watch a play based on the Gospel of Matthew and raffle off large gifts for the kids.
The weather didn't spare the 20th annual Three Kings Winter Festival and Parade on Paseo Boricua in Chicago on Monday. The scheduled toy giveaway at Roberto Clemente High, parade and subsequent music show was cancelled by temperatures in the negative teens with a -40 wind chill.
Over the weekend in California, even Disneyland parks got into the act, celebrating Three Kings Day as part of their Viva Navidad festivities with "street parties" that included Three Caballeros floats, mariachi bands and folkloric dances.
Follow us on twitter.com/foxnewslatino
Like us at facebook.com/foxnewslatino