Dolores Huerta remembers grape boycott on 50th anniversary of march to Sacramento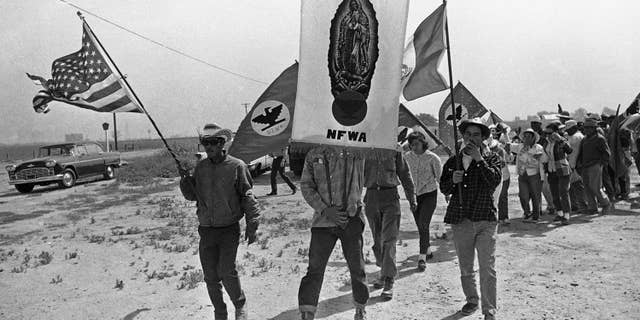 NEWYou can now listen to Fox News articles!
On March 17, 1966, activist Cesar Chavez and Dolores Huerta embarked on a 300-mile pilgrimage from Delano, California to the state's capital of Sacramento. With their long walk, they intended to shed a light on the demands of Mexican and Filipino farm workers for wages to equal the federal minimum wage.
Today marks the 50th anniversary of the start of the month-long march, which caught national attention and helped propel a five-year movement in support of farm workers' rights.
In a recent chat with Fox News Latino, Huerta said the march was an example that ordinary people can do amazing things. It started with fewer than 100 strikers and grew to tens of thousands by the time it reached Sacramento.
"When we started the march to Sacramento there were 70 people striking," she told Fox News Latino recently. "We ended up at 10,000 people. It doesn't take an army (to make a difference) just a committed few."
She added: "Ordinary people make great changes. We can do it ourselves – there is no white horse that will come in a save us. We must stay committed."
The pilgrimage ended in Sacramento on Easter Sunday that year — April 10. It has been immortalized as one of the most inspirational events for social and political activism in the United States.
Like us on Facebook
Follow us on Twitter & Instagram