DMER: the scary breast-feeding condition you've never heard of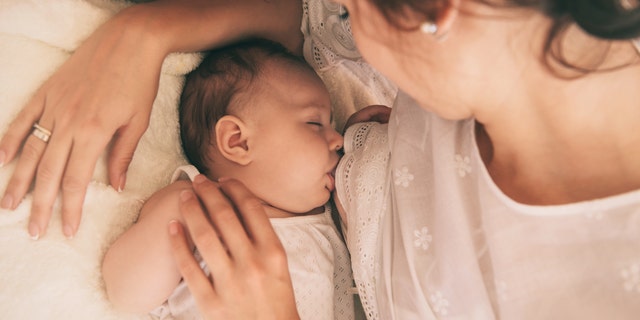 Breast-feeding moms know that the practice isn't always easy, and that leaky breasts, nipple pain and breast engorgement come with the territory. But for some of these women, there's a sneaky, under-recognized condition that can make breast-feeding an even bigger challenge than usual.
Dysphoric Milk Ejection Reflex, or DMER, is a condition marked by an abnormal chemical and hormonal reaction that causes a brief but abrupt emotional response at milk letdown. "It seems to be a small chemical reaction that causes a huge emotional reaction," Alia Macrina Heise, an International Board Certified Lactation Consultant in Naples, New York, who pioneered research on the condition, told Fox News.
THE 5 BEST FOODS FOR BREAST-FEEDING MOMS
For milk letdown to occur, the hormone dopamine — which controls the secretion of the hormone prolactin — must fall so levels of prolactin can rise. Yet for mothers with DMER, a chemical imbalance or dysfunction of dopamine prevents that from happening.
Symptoms of DMER vary, but they typically include anxiety, irritability and sadness. Some women may even have suicidal ideations. "This is like being zapped by a dark cloud — it can be very overwhelming and scary," Diana West, an internationally board-certified lactation consultant and director of media relations for La Leche League in Chicago, Illinois, told Fox News.
MOM SHARES EMOTIONAL BREAST-FEEDING POST AS SHE BEGINS BABY-LED WEANING
Some women may even experience anger or an internal sense of aggression, which is directed toward themselves, not their babies. "A lot of moms look internally and think, 'Why do I feel so shameful about myself?'" Macrina Heise said.
Although symptoms usually dissipate after a few seconds or minutes, some women's symptoms persist throughout feedings. But once the feeding ends, they feel fine again.
"This is something a lot of people are suffering with and not getting any attention to," West said. Although DMER was identified 10 years ago, research is limited and it's not clear how many women are affected. In fact, most doctors and lactation consultants are not even aware of it.
What experts do know is based mostly on anecdotal evidence and insight gleaned from case studies. "Technically, mothers are diagnosing themselves based on very distinctive signs and symptoms," Macrina Heise said.
ITCHY SKIN DURING PREGNANCY SHOULD NOT BE IGNORED
DMER is not postpartum depression
DMER is a unique physiological, not psychological, experience, There are no known risk factors for the condition, and DMER can affect women regardless of whether they have had a history of anxiety or depression or a genetic predisposition for mood disorders. However, it does seem that once a woman has had DMER, she is likely to have it again with subsequent children.
Because DMER is still largely unrecognized by the medical community, women who talk to their providers may feel that their concerns are brushed aside because their feelings are temporary or they may be incorrectly treated for postpartum depression.
DMER isn't something moms are likely to talk about with each other either. "I think women are ashamed to talk about it. They feel like something is wrong with them as being a mother," Chris Clark, an International Board Certified Lactation Consultant at Regions Hospital, a HealthPartners' hospital in St. Paul, Minnesota, told Fox News.
MOM'S HONEST POSTPARTUM DEPRESSION POST GOES VIRAL ON FACEBOOK
The good news is that most women with DMER cope well, and their symptoms usually subside within three to six months. "It seems that as the hormones of lactation change as the baby gets older, that causes enough of a shift that the emotional reaction dissipates as well," Macrina Heise said.
But in some cases, DMER can be so severe that it can impair mothers' ability to breast-feed. Wellbutrin, a prescription anti-depressant that prevents dopamine from being reabsorbed into the nerve cells of the brain, may be prescribed off-label, but it may not be effective or necessary. "Seventy-five percent of mothers can handle their situation just knowing what it is and that it's not just inside their heads," Macrina Heise said.