Dinosaur Skeleton Illegally Smuggled Into U.S. Goes Home To Mongolia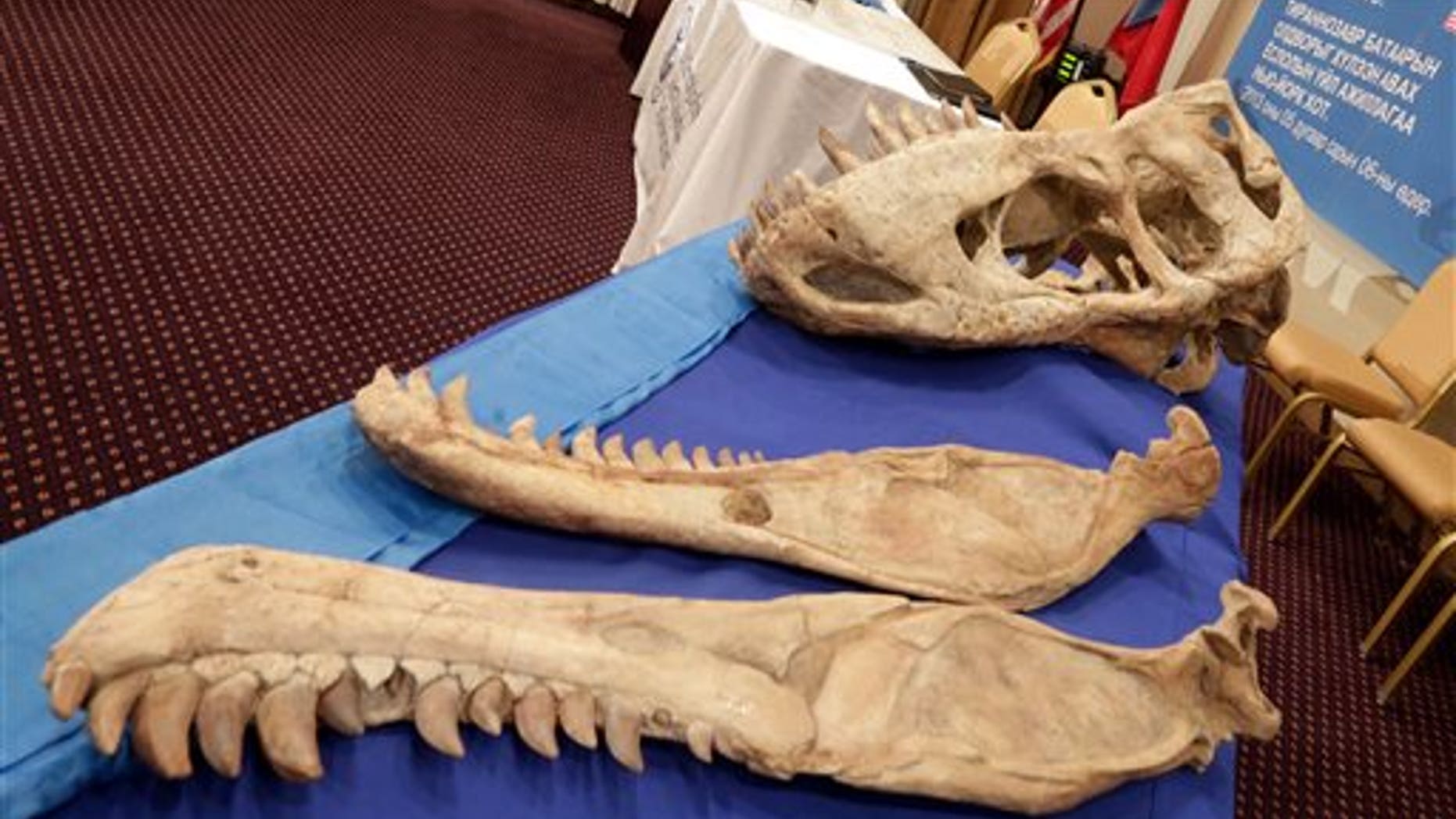 The 70-million-year-old T-Rex is going back home.
A nearly full skeleton of a gigantic dinosaur that was looted from the Gobi Desert in Mongolia and then illegally smuggled to the United States was returned today to the Mongolian government.
Investigators with U.S. Immigration and Customs Enforcement, or ICE, an agency within the Homeland Security Department, had arrested Eric Prokopi, 38, of Gainesville, Fla., for smuggling the dinosaur bones. Prokopi admitted to illegally importing various skeletons, according to the agency.
"We cannot allow the greed of a few looters and schemers to trump the cultural interests of an entire nation," said John Morton, ICE director.
Investigators seized all the stolen fossils except "Tarbasaurus Bataar," which was first discovered in 1946 during a Soviet-Mongolian expedition in the Gobi Desert. After it was smuggled into the U.S., it ended up in the auction circuit.
The Mongolian government found out about the intended sale and enlisted the help of the U.S. State Department, which in turn passed the information to ICE.
Investigators tried to stop the sale, even obtaining a restraining order against the Texas auction house which had the skeleton for sale. Despite the judge's order, Tarbasaurus Bataar was sold for just over $1 million, according to ICE.
But federal prosecutors in New York, where the auction was held, were able to keep the bones from going far, leading to a news conference in New York City today at which U.S. and Mongolian government officials announced the repatriation of the dinosaur bones.
"Our two countries are separated by many miles, but share a passion for justice and a commitment to putting an end to illegal smuggling," said Tsakhia Elbegdorj, president of Mongolia.
The year-long ICE investigation involved agents from across the country, from New York to Los Angeles.
According to the agency, investigations have led to the return of more than 6,600 stolen antiquities, pieces of art and cultural artifacts to 24 countries across the world, from Europe to Latin America, Asia and the Middle East.
Follow us on twitter.com/foxnewslatino
Like us at facebook.com/foxnewslatino