Designer César Galindo At New York Fashion Week: 'It's My Dream To Expand My Latin Roots Globally'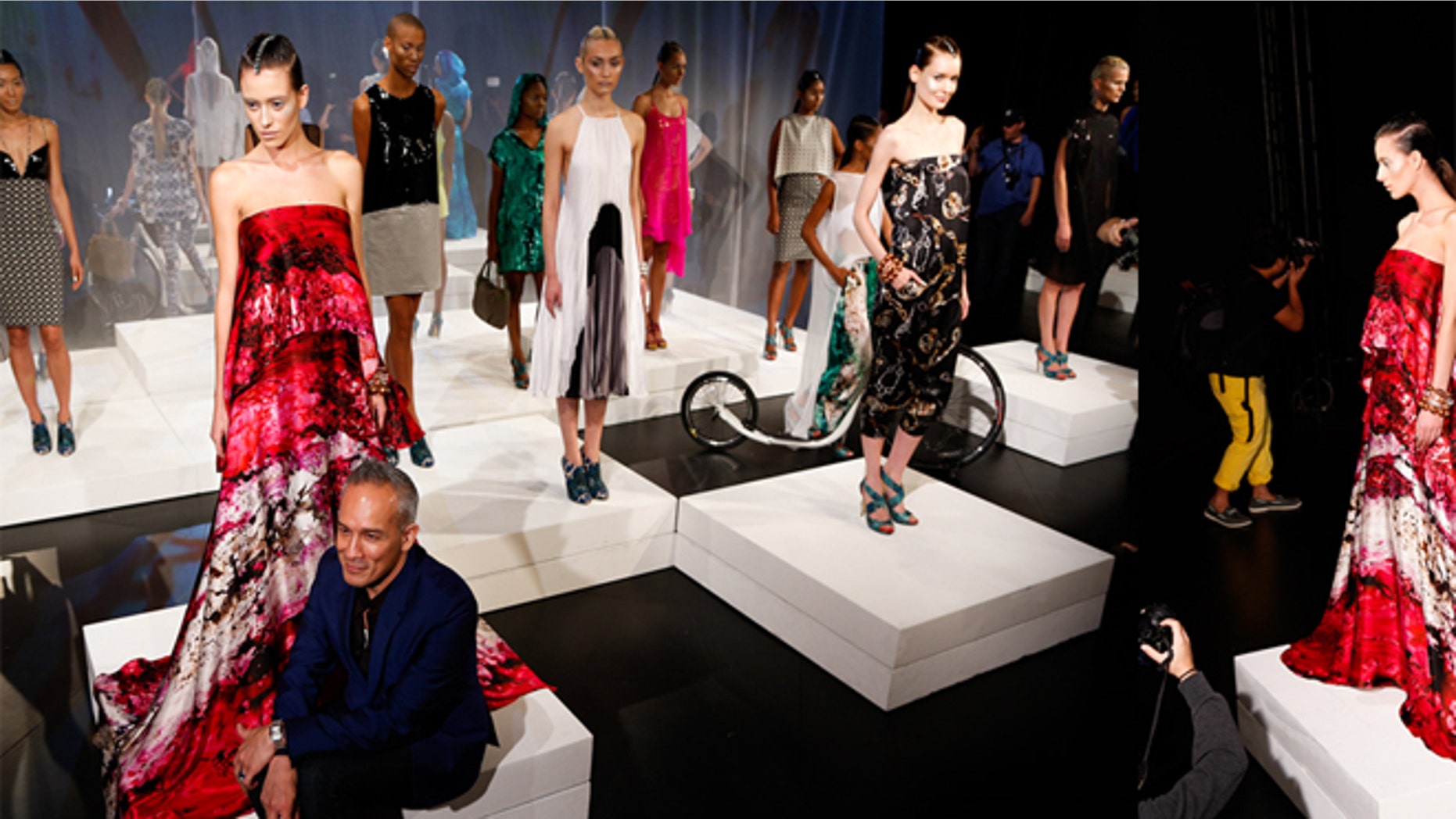 Unless you're a true fashion insider, the truth is, the brand CZAR by designer César Galindo isn't a clothing line you'll recognize.
The irony? Galindo is the only U.S. Latino designer presenting at New York Mercedes Benz Fashion Fashion Week, and in a few short months, women who shop at a very well-known and very large retail store will definitely be vying for his yet to be launched brand.
Galindo — who founded CZAR by César Galindo after a nearly 20-year career designing collections for brands like Calvin Klein — is one of eleven children and grew up in Houston to Mexican parents. He began his career designing corsets and period costumes for The Miami City Ballet, then for The Houston Grand Opera.
Stepping into the New York Garment business in the mid 1980s, his first position was with TSE Cashmere as a showroom manager, followed up with a design position at Carmelo Pomodoro. Then he launched his first collection at New York City's Martha's International and Henri Bendals.
Galindo's brand has had international distribution, along with an American market presence.
He said he had no idea he was the only Latino designer presenting a Fall 2014 collection this season, but he's proud to represent and has no doubt that the apparent dearth of Latino designers showcasing their work is changing fast.
He's calling his new Fall 2014 collection "Altered States," and says the line is meant to be as tractable as his devoted customers.
"Technology inspires mobility. The office isn't even in the office anymore for many people. I'm addressing the needs of my clients who struggle for a wardrobe as flexible as their lifestyles. We're in constant movement. It's become the DNA of our existence," he said in an interview with Fox News Latino.  
A new kind of active-wear, Galindo's line offers lots of layering, with luxe hoodies, lots of outerwear and new versions of knits — all done in blues, greys and purples as base colors, with pops of red and orange.
As proud of he is of his heritage, Galindo doesn't necessarily want to be known just as a Latino designer. As he sees it, there aren't more Latino designers because "we get stuck in our own barrios. We hold ourselves back. Many of us are lucky enough to extremely coddling of our families, but that can be a blessing and a curse."
But he also believes that old-time notions of who designers should be change, in terms of their personal background including race or ethnicity, more Latino dynamos in fashion will begin hitting the national scene.
"Latinos bring to fashion our vivid personalities, our fearless love of color, clothing for women of all sizes, and our energetic attitudes. I represent my family every day. I love what I do," he said.
In addition to Galindo's CZAR contemporary line and his couture line, Ceasar Galindo Couture, his work will soon be showcased at major department store, following in the footsteps of the likes of other successful Latino designers such as Daisy Fuentes and Jennifer Lopez.
By Fall of 2014, Galindo is expected to launch a design collaboration with a huge American retail company (he said he cannot yet reveal which one) with a line branded "Lindo."
And his goals don't end there. He's aiming for more success.
"It's my ultimate goal to have a lifestyle brand. It's my dream to expand my Latin roots globally — it'll be my impact on the fashion world," Galindo said.