Deployed service member Photoshopped into wife's moving maternity photos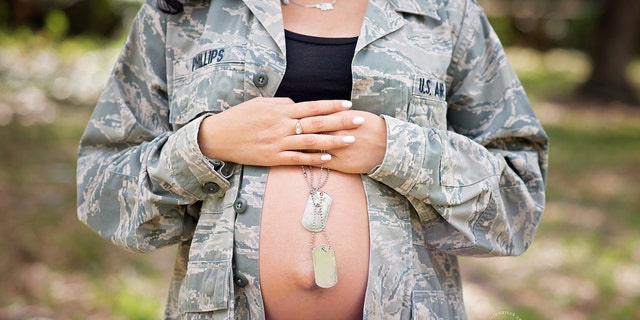 Veronica Phillips has been miles apart from her husband, Brandon, as he serves his country overseas since around the time they learned the sex of their soon-to-arrive baby boy, Landon. But the Homestead, Florida, woman has remained connected with Brandon through a series of heartwarming photos.
MULTITASKING MOM BREAST-FEEDS WHILE SHE WORKS OUT
In one of the images, shot by photographer Jennifer McMahon of Jennifer Ariel Photography, Phillips is shown caressing her baby bump while wearing a flowing, open-belly pink gown and flower crown, as Brandon reaches over from where he's stationed to also touch her growing belly. For another, Phillips dons Brandon's military jacket and holds his dog tags.
"They are so beautiful," 29-year-old Phillips, who is nine months pregnant, told PEOPLE of the photos. "I tear up whenever I look at them." Brandon, a staff sergeant in the U.S. Air Force who's been deployed to an undisclosed location, "loved them too," she added.
MOM HITS BACK AT CRITICS OF C-SECTIONS IN VIRAL POST
Phillips, who is a social worker, admitted managing her pregnancy has been difficult on her own, as she's needed to drive herself to doctor's appointments.
"It definitely gets hard," she told PEOPLE. "As my belly gets bigger, the more I miss him! I just wish he was here."
NEW MOM SAYS STRECH MARKS ARE 'NOTHING TO BE ASHAMED OF'
PEOPLE reported that Brandon, whom Phillips married in November and initially met five years ago, won't be home for the birth of Landon, but Phillips said the photos help her remember their union during this journey.
"I wanted to honor my husband, and even though we are a far distance from each other, we are close in this picture," she told the website. "It symbolizes our love and commitment from afar."