Dangerous new sclera tattoo fad permanently damages model's vision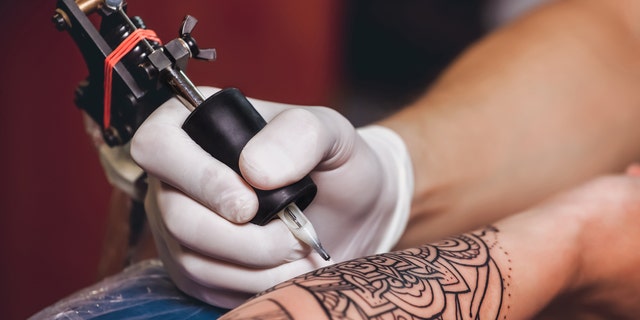 Twenty-four year old Catt Gallinger may be permanently blind after a tattoo she received left her eye oozing with purple liquid.
Gallinger, an alternative model, wanted to add a sclera tattoo to her long list of body modifications. Sclera tattoos – tinting the white outer layer of the eyeball by injecting it with diluted ink – have seen an uptick around the world in recent years.
The Canadian, who already has several tattoos and piercings, had planned to try the trend for herself by coloring her sclera with purple ink, but ended up being rushed to the hospital with horrible pain and a leaking eye.
At the hospital, Gallinger was given antibiotic eye drops for the first week and a half and then was given steroid drops for four days to bring down the internal swelling, she wrote in a Facebook post, which has since been shared over 3,500 times.
MADONNA USES $600 MASK ON HER BUTT TO KEEP THE SKIN SOFT
Now, nearly a month after the botched tattoo, she is urging people on her Facebook to use caution when it comes to body modifications and says that her eye was swollen for almost a week following the failed sclera tint attempt.
"For everyone inquiring about my eye," Gallinger writes. "So this was done by Eric Brown three weeks ago. As it stands I will have to see a specialist and am as risk of being blind if it doesn't get corrected."
"I am NOT sharing this with you to cause trouble, I am sharing this to warn you to research who you get your procedures by as well as how the procedure should be properly done," she said after blaming "undiluted ink, over injection, [and] not enough/smaller injections sights" as the reason for what went wrong.
Though Gallinger has said her vision has improved over the past few weeks, medical professionals have informed her than she will probably never completely recover her sight in the damaged eye.
Gallinger is continuing to see eye specialists about her condition and says she is determined to create awareness and keep others educated and safe so they don't make the same mistake as her.
"Just please be cautious who you get your mods from and do your research. I don't want this to happen to anyone else," she said on Facebook.
The practice of eye tinting is fairly new, but according to Dr. David Flug, an ophthalmologist in New York, the practice is extremely dangerous.
"Basically my feeling is that it's insane. It can be done, but it has no long-term testing for safety. You have to be nuts to do it," Dr. Flug told Newsweek.
FOLLOW US ON FACEBOOK FOR MORE FOX LIFESTYLE NEWS
Luna Cobra – the man credited with popularizing the procedure – has said he's trying to outlaw the tattoo.
Cobra told Newsweek he was the first artist to refine the procedure of the sclera tattoo and would film his process, leading to copycat artists.
"I didn't think people would think so lightly of this [tattooing the eye]." said Cobra. "I thought they would take it more serious. It looks like people are not taking it so serious."
However, the tattoo is incredibly serious and unsafe. Sclera tattoos can lead to extreme sensitivity to light, permanent partial or complete blindness and even possible enucleation – removal of the eyeball.