Dad's hilariously honest post about his daughter's poop storm goes viral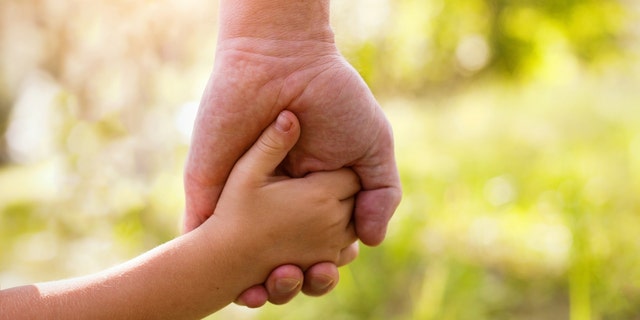 Parenthood can be messy, and one dad's Facebook post is going viral for illustrating that truth.
Jesse Mab-Phea Hill, of Omaha, Nebraska, writes about an ordinary day of relaxing at home after dropping off his son at school and letting his toddler daughter nap upstairs when he smelled "something foul."
MOM SHARES HOW SHE'S TEACHING HER DAUGHTER TO BE BODY-CONFIDENT IN VIRAL POST
"I scan the basement from the stairs thinking the dogs dropped a deuce before I let them outside," he writes in the May 11 post, which had received more than 89,000 reactions and over 114,000 shares as of Monday morning. "I see nothing..... And then my blood runs cold when I realize the stink is coming from the upper floor."
He explains that he runs upstairs to find his daughter, Alessandra, standing at her baby gate, unclothed, holding her diaper, and "covered head to toe in her own crap."
IN DIVIDED ARGUMENT, WOMAN SAYS HER CHILD DOESN'T HAVE TO SHARE
"I'm not talking a little poop here and there on her," Hill writes. "I'm talking layered on globs of human fecal matter covering her arms, legs, face and HAIR. It's bad. It's worse then (sic) any other time she decided to explore in her diaper."
Hill admits in the post that he was tempted to wait until his wife, Mayra, got home from teaching her workout class, and pretend like he was sleeping. However, he decides to deal with the mess on his own by bathing his daughter to "pick all the crap out of her hair, bottom of her feet and everywhere in between" before scanning the destruction of her bedroom.
"2 rolls of paper towels, 5 stolen gym towels, 1 bottle of pinsole, 1 bottle of bleach, 1 big bag of crap covered toys and 2 1/2 hours later her room still smells like a dumpster fire," he writes after describing the scene in horrifying detail.
THE CONTROVERSIAL REASON THIS MOM WON'T BABY-PROOF HER HOME
"I swear I do everything I can to show these kids I love them but they turn on me when I least expect it," he jokes. "Alessandra is my favorite daughter but my 2nd favorite kid right now."
Based on the comments section, Hill isn't the only one who's dealt with a child poop storm.
"Too funny," one commenter writes. "Been there done that! Had my turn in that barrel. You made my day! I'm a great grandma now. Glad those days are over!"
Others, meanwhile, praised the dad for his strength.
"God bless you, you are a real soldier," one parent writes.
FOLLOW US ON FACEBOOK FOR MORE FOX LIFESTYLE NEWS