Coat of arms (and legs): Costa Rica strips Miss Universe contestant of dress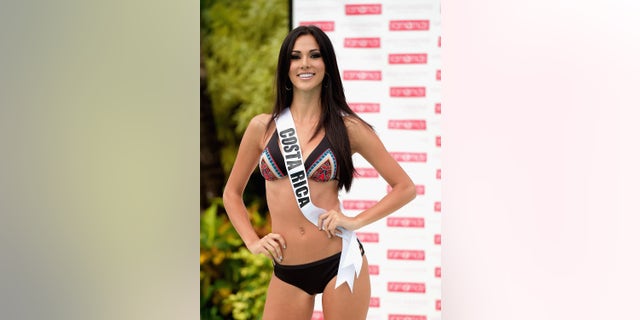 Two weeks before this year's Miss Universe pageant on Jan. 25, the beautiful contestant from Costa Rica is having a pageant-related wardrobe malfunction.
No, 21-year-old Karina Ramos wasn't threatening to expose a portion of her taut body that isn't supposed to be exposed. Instead the outcry stemmed from one of the dresses Ramos intended to wear for the competition, which featured the country's coast of arms over her breastplate.
On Monday, government officials in Costa Rica cried foul, saying it was an inappropriate use of a national symbol.
The demure dress runs afoul of a 1906 law that regulates the proper use of national symbols. The law allowed the Foreign Ministry's Office of Protocol to strip Ramos of her gown, as it were, and prompted designer Daniel Moreira to scramble to come up with a new one for the pageant contestant.
"To calm the concerns of the people and avoid offending anyone, the organization will send another traditional costume," Gabriela Alfaro, the image director of the televised event and Miss Costa Rica organization, told the online news agency Teletica.
The costume is expected to arrive in Doral, Florida - where the pageant is taking place - sometime before Jan. 21, when Ramos is required to present it to the judges.
Costa Rican officials tried to downplay the controversy by saying that the call to Moreira was more of a courtesy than a threat and added that a dress resembling the three colors of the country's flag would be fine, but using the national seal is a step too far.
For his part, Moreira defended his design as a "modern vision" of nationalism instead of the tropical themes you see from so many other Latin American nations. He added that people who don't know fashion should not express their opinions about it.
"I'm not a soccer fan, so I have no reason to criticize soccer players because I don't know what I'm talking about," Moreira said, according to the Latin American Herald Tribune. "Why do people get so easily worked up about something that they shouldn't have any opinion on because they are not experts?"
Like us on Facebook
Follow us on Twitter & Instagram