Chipotle's Literary Packaging Faces Backlash For Not Featuring Any Mexican Authors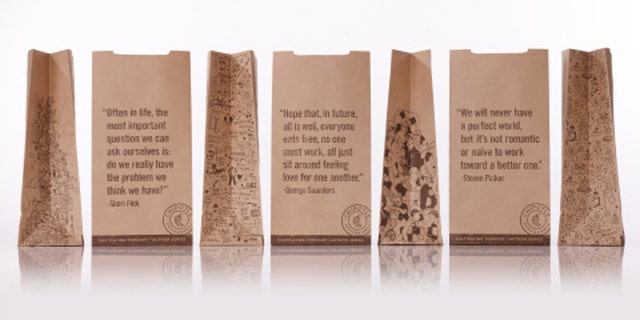 The quasi-Mexican food chain Chipotle recently launched a campaign encouraging its customers to have a good read with their tractor-trailer sized burritos.
Teaming with 10 prominent writers – Toni Morrison, Malcolm Gladwell and Michael Lewis just to name a few – the gut-busting burrito joint will feature a collection of very short stories (250 words or less) on its cups and bags.
The brainchild of best-selling author Jonathan Safran Foer, whose books include "Extremely Loud and Incredibly Close, Eating Animals and Everything is Illuminated," the bags are facing some backlash from Latino activists for not including any Hispanic authors in their bookish campaign for the fast-food chain that claims to sell Mexican food.
"In Foer's world, Latino authors simply don't exist and simply don't appeal to his Chipotle worldview of what the chain is advertising as 'Cultivating Thought' -- the only Mexican cultivation the two approve for their beloved burritos is the tomatoes harvested by Florida pickers," wrote OC Weekly editor Gustavo Arellano.
Two writers - Lisa Alvarez and Alex Espinoza – have even created the "Cultivating Invisibility: Chipotle's Missing Mexicans" Facebook page where upset authors and others can voice their complaints with Chipotle's refried rebuff.
"Here's the thing. I exist. I am full of stories. Just ask me, and I'll tell you. But you have to ask," Espinoza wrote. "Don't ignore me. Don't eat my food and think you know me."
Chipotle did not immediately return phone calls from Fox News Latino seeking comment.
In a statement, the campaign said "Over the years we've used our cups and bags as a means of sharing our sense of humor, thoughts, and ideas, in both word and design. The Cultivating Thought series continues this tradition, presenting the words and whimsy of thought-leaders, authors and comedians through unique, you'll-only-find-them-here essays, each illustrated by a different artist."
Some authentic Mexican eateries are capitalizing on the backlash.
The Mexican fast-food restaurant Flacos in Berkley, California is passing out blank cups and pens to customers so they can write their own stories. A number of activists and authors have also taken to social media to post their own stories they've written on cups.
"I grew up in a work truck where it is possible to wrap all the sustenance needed to survive a single day in a single sheet of foil," Joseph Rios wrote, according to the Los Angeles Times.
Follow us on twitter.com/foxnewslatino
Like us at facebook.com/foxnewslatino