Casa Latina: How to Maximize Bathroom Space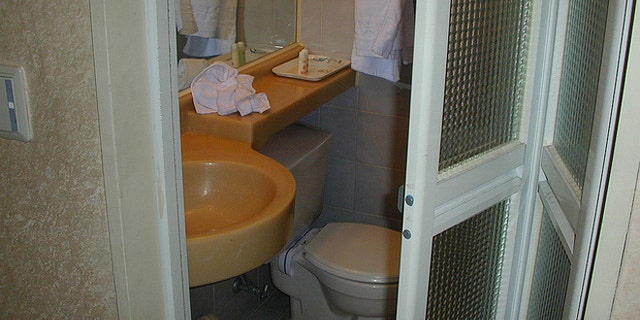 One of the main issues of city living is often the lack of space, especially in the itsy bitsy bathrooms. Most small bathrooms become even more claustrophobic when toiletries are everywhere. The solutions to claiming your space is simply becoming more creative. Did you know that most walls have studs that are 16 inch apart? If there is no plumbing or insulation between the studs, you may be able to gain at least 4 inch of depth and cut out a niche.
A niche gives a small bathroom much needed space. For example, a niche on the side of a medicine cabinet can serve as a home for toiletries. Add a few glass shelves, extra lighting and transfer your toiletries into decorative containers and you've converted the niche into more of a display than simply a utilitarian storage solution. Towels always seem to be in the way too. Even when hung on hooks they protrude into the space. With a niche the towels have their own designated space and appear neater.

Ok, you've decided to create a niche. Now where to put it? The wall next to the toilet could be an excellent location. Toilet paper as well as magazines can be stored there without invading the toilet area. A low privacy walls next to a toilet is also a great location for a niche. And of course the most well known place for a niche is in the shower or tub area. Here the niche should be built on a slight slant to allow water to flow outward.
Another way to create space is to address the door area. In a small bathroom your doors inward swing takes up a lot of room. Reclaim your space by either installing a pocket door, which allows the door to slide into the wall, or install barn door hardware that allows the door to slide along the outside of the wall. If removing the door is not an option, consider replacing the existing door with a translucent glass door to allow light to enter the room. If funds are limited, and the exterior space permits, consider changing the direction of the door; have the door swing-out instead of in.
Then there are toilets. Today's toilets offer many options that were not available for Abuela. Toilets no longer need to have an exposed tank protruding into the space, as a result allowing far more room in a small bathroom. Wall-mounted toilets are a fantastic idea. They take a lot less space. However, if you chose this option please consider hiring a professional because not all walls are designed for a wall mounted toilet so you need to be careful.
Cabinets above the toilet will also add space. However, don't buy an oversize cabinet that will clock you on the head every time you get up. Instead buy something simple that compliments the space. Buy a cabinet with doors because every time you flush, particles fly around the room that could adhere themselves to whatever may be stored above. This very usable space but you want to have doors to any cabinet above a toilet.
Pedestal sinks, as well as wall mounted sinks, take less room and give the illusion of more space, but you lose the ability store anything. Vanity cabinets provide storage pace with various options. You can purchase a cabinet that has a drawer in place of a toe kick, or a cabinet that has roll out trays so that you are able to reach further back. Not all vanities have usable drawers, but if your plumbing is centered within your cabinet you may be able to purchase a cabinet with u-shaped drawers that allow you to use every inch of space.
You can create the illusion of more space with tiles but keep it simple. Be careful with flower patterns. They become out-dated quickly. You want to select a timeless design, something you will still like five years down the line. Large tiles give the impression of a larger space. I am not suggesting an 18 inch by 18 inch tile in a 5'x5' bathroom, but larger than a 4'x4' tile. And stone tiles should be used as accent.
Lastly, a vessel sink allows for great storage, both inside and outside the space because the faucet no longer has to be part of the countertop. While a wall faucet is a great solution to create space, it can be a bit costly because the plumbing has to be rerouted.
Small bathrooms are a part of life and making them bigger is not always an option so you need to get creative. The best time to come up with a great idea is while you are sitting in there by yourself. Really look at your walls, ceiling included, touch them, knock on them and ask yourself how much bigger I can make my bathroom without spilling into the next room. You will be surprise with what you come up with.
Marlene Pratt is the co-founder of Casa Latina, an interior designer and on-air television host on both English and Spanish-language television. Follow Marlene on Twitter at @CasaLatinaToday and Like her FB page.
Follow us on twitter.com/foxnewslatino
Like us at facebook.com/foxnewslatino