California boy refuses to hit bullies because 'it's not the Jedi way'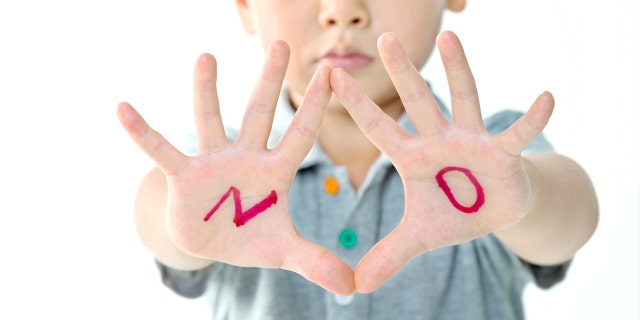 A California fifth-grader had to be hospitalized this week after he refused to fight back against a bully at school. Why?
"It's not the Jedi way," said 10-year-old Aiden Vasquez after returning home to his mother.
"He said he felt it in his soul not to hit the kid back," she explained in a Facebook post on Monday.
MISSOURI BOY'S GREEN SCREEN SCHOOL PHOTOS GO VIRAL
Lizette Casanova claims this is the third year in a row that her son has gotten bullied at Two Bunch Palms Elementary School in Desert Hot Springs.
"Yes he is different…BUT REALLY!?! Now we're making hospital visits," she said.
This is the second time that Aiden has had to get medical treatment on account of the bullying, according to his mother.
"Last year he got a cheek laceration," she said, speaking to KMIR. "He got pushed against a wall supposedly and his face got cut open."
Aiden told the local station that this week's incident — which happened just days into the school year — all started because the bully took his backpack.
"Give me my backpack, give me my backpack," he recalled asking the boy. "I went to go get it and then — pop."
CALIFORNIA SCHOOL DISTRICT'S 'PERMISSIVE' DRESS CODE WELCOMING TUBE TOPS, RIPPED JEANS AND PAJAMAS SPARKS DEBATE
Aiden suffered a "three inch laceration in his eyebrow, swelling of his cheek and slight blood in his eye" as a result of the latest attack, his mom said.
"For those telling me I should tell my son to FIGHT BACK OR Hurt the kid [sic] we're not those kinds of people," Casanova wrote on Facebook. "I don't need to fight with fists to prove a point. My son is incredibly gifted and that's all I have to teach him to embrace he will be someone one day trust and believe! #StopBullying."
Casanova's posts about the incident have gone viral, with many praising Aiden for not stooping to the bully's level — including the most famous Jedi of all.
FOLLOW US ON FACEBOOK FOR MORE FOX LIFESTYLE NEWS
"I'm astonished by his wisdom & courage such a tender age," tweeted Mark Hamill. "I may be a fictional Jedi, but this boy is the real deal. Not sure how to reach out to him, but I hope he sees this message & knows how much I admire him."
This story originally appeared in the New York Post.