Burger King introduces 'Whopper Donut' as part of National Doughnut Day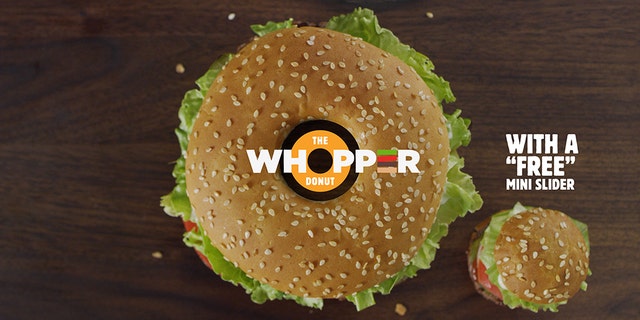 Will you try the "Whopper Donut"?
Burger King is planning to sell the food item on National Doughnut Day this Friday, it's been revealed.
The fast food company dubbed it the "first flame-grilled donut ever" in a YouTube video description.
"Some of you might say it's just a WHOPPER® sandwich with a hole cut in it, and you might be right," the company said. "But, hey. If it has a donut hole in it, it's a donut."
PEOPLE CHASE WHEELS OF CHEESE DOWN STEEP HILL FOR ANNUAL CHEESE ROLL RACE
That's not all, burger fans: you'll also be able to get another item.
"And if you were wondering what happens with that middle cut-out piece (aka "donut hole"), well, it comes as a "free" mini slider," the burger chain said in a press release.
Burger King customers can look for the 'Whopper Donut' in five locations: one each in Boston, Miami Beach, Los Angeles, New York and Salt Lake City, according to the release.
You can read more about the specific restaurants here.