Burberry apologizes for 'insensitive' noose accessory at London Fashion Week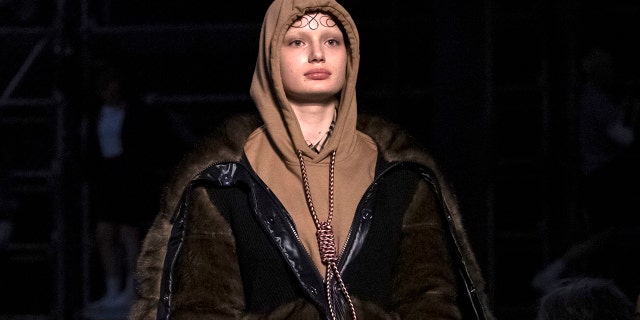 Burberry is apologizing after one of its fashion accessories displayed on a runway during London Fashion Week — a hoodie with strings tied into the shape of an apparent noose — stoked outrage.
The fashion brand is "deeply sorry for all the distress" that the item has caused, Burberry CEO Marco Gobbetti said in a statement provided to Fox News on Tuesday.
GUCCI SWEATER CREATES UPROAR FOR APPEARING TO RESEMBLE BLACKFACE
The tan hoodie was featured during a show featuring the brand's autumn-winter collection, titled "Tempest." It shows the two strings of the hoodie come together along the chest, and tied into the shape of a noose.
It quickly drew outrage after Liz Kennedy, a model who walked in the show on Sunday but didn't wear the ensemble in question, took to Instagram to argue that "suicide is not fashion."
"It is not glamorous nor edgy and since this show is dedicated to the youth expressing their voice, here I go. Riccardo Tisci and everyone at Burberry it is beyond me how you could let a look resembling a noose hanging from a neck out on the runway," she wrote.
Kennedy questioned how "anyone could overlook this and think it would be okay to do this especially in a line dedicated to young girls and youth," before mentioning "rising suicide rates" worldwide and "the horrifying history of lynching."
SPERM PRINTS WERE THE HOT TREND AT LONDON FASHION WEEK
"A massive brand like Burberry who is typically considered commercial and classy should not have overlooked such an obvious resemblance. I left my fitting extremely triggered after seeing this look (even though I did not wear it myself)," she wrote.
Kennedy said she asked to speak to somebody about it and was told to write a letter.
"I had a brief conversation with someone but all that it entailed was 'It's fashion. Nobody cares about what's going on in your personal life so just keep it to yourself.'"
Gobbetti said he called Kennedy to apologize "as soon as I became aware of this on Monday," and said Burberry "immediately removed the product and all images that featured it."
"Though the design was inspired by the marine theme that ran throughout the collection, it was insensitive and we made a mistake," Gobbetti continued.
CLICK HERE TO GET THE FOX NEWS APP
Riccardo Tisci, the brand's chief creative officer, also apologized "for the distress that has been caused as a result of one of the pieces in my show on Sunday." The "Tempest" collection is Tisci's second collection for Burberry.
The gaffe comes after Gucci removed a sweater from the market last week after complaints that the oversized collar designed to cover the face resembled blackface makeup. In December, Prada stopped selling baubles that also prompted complaints of racist imagery.
The Associated Press contributed to this report.