Bride sings Elvis down the aisle, groom breaks down in tears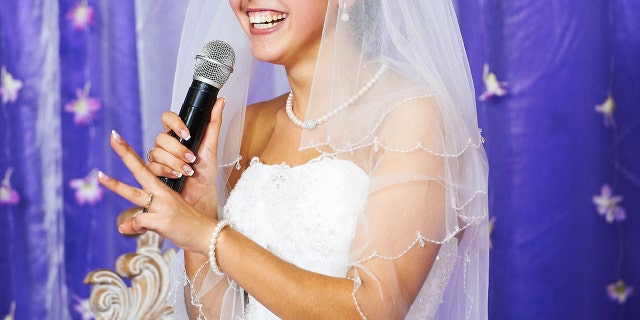 NEWYou can now listen to Fox News articles!
One bride's entrance to her wedding ceremony hit all the right notes, as she surprised her groom and the congregation with a sweet rendition of "Can't Help Falling in Love" by Elvis Presley.
The three-minute video of Allison Dyer crooning down the aisle — and fiance Jason Thurgood instantly doubling over in tears — has since gone viral, gathering over 6.1 million views on Facebook.
A while after celebrating their nuptials on Oct. 14 in Hillsboro, Ky., Jason told Yahoo Lifestyle that the song has special meaning for the high school sweethearts.
"Allison comes from a place where she used to be in an abusive relationship, and to know that someone like me could change that for her is absolutely extraordinary," he said.
FATHER'S DYING WISH TO WALK DAUGHTERS DOWN THE AISLE COMES TRUE
While both Dyer and Thurgood are only 18 years old, they've been dating for four years since meeting in church. Further, they consider themselves devoted to both their faith and their relationship.
"I didn't want a relationship [when we met], but I knew God was telling me he was the one, so I took a leap of faith," Allison told the site.
In hopes of adding a personal touch to the ceremony, she decided to surprise her new husband with the musical interlude. The added touch was deeply personal, as the couple often travels to perform at other churches.
"People call and ask for her to sing, and I'm usually the one behind her," Jason said.
52 PERCENT OF AMERICANS TELL THE SAME LIE TO THEIR FAMILY DURING THE HOLIDAYS, STUDY SAYS
While the groom remembered that Allison showed him a YouTube clip of another girl singing a similar Elvis cover a year ago, he was totally surprised by her serenade, especially since his best man acted as the sound guy for the ceremony. The bride did, however, tease him with a cryptic message beforehand.
"I told him that if he didn't cry, I was going to turn around and do it all over again," Allison said, adding that Jason's emotional reaction is her favorite part of the video.
On the big day, as Presley's heartfelt tune wafted through the venue, Jason said he was totally shocked to see his bride-to-be slowly coming towards him in song.
"I saw the mic in her hand, and she was singing, and at that moment, the floodgates opened up. It was a complete surprise. I was really flattered," he said.
FOLLOW US ON FACEBOOK FOR MORE FOX LIFESTYLE NEWS
As evidenced in the video, there apparently wasn't a dry eye in the house, either.
Now, the newlyweds are looking forward to their happily ever after.
"We don't have to worry about falling out of love or anything like that. We're best friends, and we love each other," Allison added.