Brazil's No. 1 Elvis Presley 'All Shook Up' About World Cup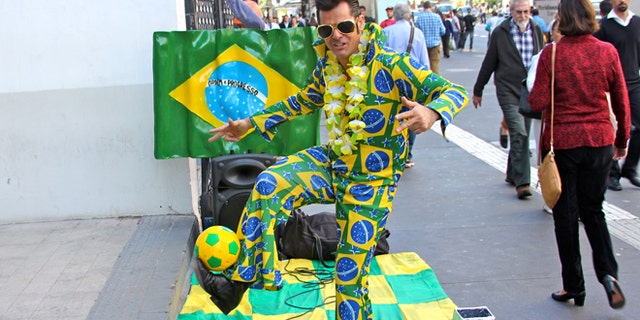 NEWYou can now listen to Fox News articles!
São Paulo – Well it's one for the money, two for the show, three to get ready, now goal, goal, goal.
Elvis Presley is celebrating Brazil's 3-1 win in the World Cup opener in style.
Dressed in a Brazilian-flag jumpsuit reminiscent of the one the King wore at his famous 1973 concert in Hawaii, wearing thick-rimmed gold sunglasses and with more gel in his 'do than the cast of "The Jersey Shore," Elvis – real name Marcio Aguiar – was out on São Paulo main boulevard, the Avenida Paulista, snapping photos with tourists and juggling a soccer ball in cowboys boots.
"Elvis loved Brazil," Aguiar told Fox News Latino, as his favorite song, "Suspicious Minds," blared in the background. "Elvis visited Brazil to meet up with a woman but was never able to play a concert here."
Aguiar says that his love for Elvis comes from the music and from Presley's oversized personality.
"Elvis is addictive," he added. "Everything about Elvis is so big, he has so many different types of outfits and songs."
Unlike the real Elvis, whose favorite meal was a grilled peanut butter, bacon and banana sandwich, Aguiar says that he likes to stay fit and came across the idea of imitating the King of Rock n' Roll when he ran the 2012 São Silvestre marathon in a white embroidered jumpsuit.
While running through the streets of São Paulo, Aguiar sang "It's Now or Never" for the entire race. This exhausting act of fan dedication earned Aguilar media attention across Brazil and a full-time gig as São Paulo's No. 1 Elvis impersonator.
"I've got over 60 Elvis outfits that I wear," he said. "But my favorite is the one from the 1973 Hawaii concert. That concert was seen by more people than when men landed on the moon."
The moon landing in 1969 was seen by about 125 million people, while it's estimated that 1.5 billion people worldwide watched Elvis' 1973 concert.
With the World Cup in Brazil now in full swing, Aguiar is breaking out a very specific costume for soccer fans.
Refashioning a Japanese kimono with a Brazilian flag print (yes, they make those), Aguiar created a one-of-a-kind jumpsuit complete with the high-collar and flared bell-bottoms favored by Elvis in the 1970s.
"I made this especially for the World Cup," he said.
While he loves all things Elvis, Aguiar admits that the King probably wouldn't be rooting for Brazil in this Cup.
"Elvis was so patriotic," he added. "If there was a match between Brazil and the U.S., Elvis would definitely be rooting for the U.S."
Still, when it comes to this Cup, this Elvis wants the Seleção to hoist the cup in the air at the end of the tournament.
"I want it to be first place Brazil and second place the United States," Aguiar said. "But if this was American football it would be a whole lot different."