Blood on the sand: Female matador, four others gored by enormous bull in Mexico City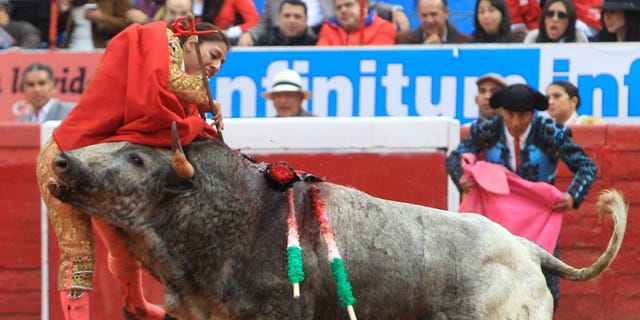 NEWYou can now listen to Fox News articles!
A female Mexican bullfighter had a rough day in the ring after being gored twice by an angry bull during a corrida in the Plaza de Toros, the world's largest ring, on Sunday in Mexico City.
As the pint-sized Karla de los Angeles was preparing to deliver the killing blow on the 1,090-pound bull named Gamusino, he caught her upper body with his horn and lifted her over his head.
A video taken at the bullfight shows de los Angeles wincing in pain on the dirt before being treated by the ring's medical staff.
Soon after receiving medical treatment, she was in the ring again when Gamusino gored her a second time. In all, de Los Angeles, 25, suffered cuts of 4.7 inches and 3.9 inches on her thigh and buttocks.
"It was [a very bloody run], there were many mishaps. Thank God, so far as it goes, we're fine," de Los Angeles told a local radio station afterward. "You have to accept it as it is."
Gamusino also gored assistant Federico Dominguez who tried to help de los Angeles. The bull proceeded to injure two different assistants along with a farmer after he jumped out of the ring and went into a walkway. One of the assistants reportedly had a concussion and is in serious condition.
To top off a day of bloodshed, one of the 5,000 or so spectators was also hurt when the fourth bull of the afternoon jumped the wooden barrier surrounding the ring.
Female bullfighters – three of whom competed in Mexico on Sunday – are a controversial topic among aficionados of the spectacle. For decades under the regime of General Francisco Franco in Spain, women were prohibited from performing as matadors, and, while the ban was soon lifted after the dictator's death, there are still very few female matadors.
Like us on Facebook
Follow us on Twitter & Instagram