Biblical soap opera becomes huge hit in Brazil, highlighting growing evangelical community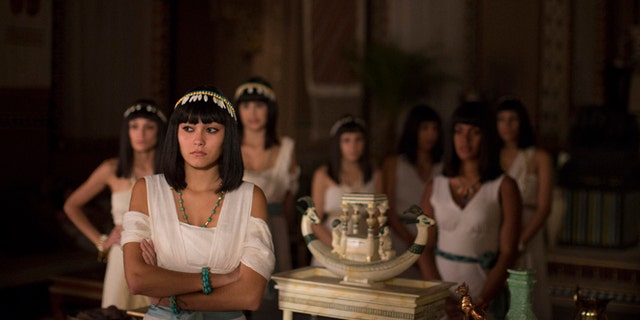 NEWYou can now listen to Fox News articles!
RIO DE JANEIRO (AP) – The actress agonizes on her deathbed, her hair and makeup impeccable, as the hunky male lead clutches her hand. Tears pour down his face while her eyelids flutter to a final close.
The scene oozes with over-the-top drama that makes Brazil's prime-time soap operas as much of a national institution as soccer or Carnival. However, in this case, the actors aren't playing wealthy sophisticates with complicated sex lives, but rather characters out of the Old Testament.
Set in ancient Egypt and loosely based on the story of Moses, "The Ten Commandments" is billed as Brazil's first biblical soap opera. Swathed in Egyptian robes and sporting lapis lazuli jewelry and Cleopatra wigs, some of the characters are based on biblical or other historic figures, while others are invented.
The soap is taking the country by storm. It's helped propel the Rede Record television network, owned by the founder of Brazil's main Pentecostal church, the Universal Church of the Kingdom of God, into a showdown with top broadcaster Globo, which for decades has had a lock on prime-time soaps, known as novelas.
Some suggest that the surprise success of "The Ten Commandments" lies in the show's family-oriented script.
"There is a more conservative audience in Brazil that we've seen is quite strong," said Bruno Dieguez, a communications professor at Rio's Pontifical Catholic University.
That audience includes a burgeoning evangelical community that now accounts for one-fifth of the population of around 200 million. In the world's largest Catholic nation, members of that majority faith also tend to be social conservatives, especially in rural areas.
"They now feel they have an alternative (to Globo) and they're tuning in," Dieguez said.
Since its debut in March, "The Ten Commandments" has attracted about three times as many viewers as Record's previous prime-time offerings, boosting the network from its typical third-place standing into second place, network officials said.
In one recent episode, a male character based on the historic 13th century BC Egyptian pharaoh Ramses II held vigil over the deathbed of his fictitious wife, Maya, after she was poisoned by a jealous rival.
An earlier time slot for the program, which begins at 8:30 p.m. six nights a week and competes with Globo's national news program, also seems to have helped the show's success.
Globo's "Babilonia," a tale of female vengeance set in contemporary Rio de Janeiro, remains the most popular. It nevertheless has been panned by critics and subsequently had its run cut by three weeks.
"Babilonia" especially offended conservatives with a kiss between two of Brazil's most famous actresses playing an elderly lesbian couple in its first episode.
Despite its international reputation as a sexually liberated, gay-friendly country, Brazil has many people who view homosexuality as immoral.
One day after the lesbian kiss on "Babilonia," Brazil's most influential Pentecostal pastor, Silas Malafaia of the Assemblies of God church, called the show "an instrument of moral rot" in a blog post he linked from his Twitter feed with nearly 900,000 followers. He blasted Globo as "the biggest sponsor of immorality and homosexuality in Brazil."
Malafaia and Record have denied involvement in an anonymous petition that later circulated on Facebook urging viewers to boycott "Babilonia." But Record has nevertheless capitalized on the controversy.
Network brass gives most of the credit for the success of "The Ten Commandments" to the quality of its production. Each of its 150 episodes costs around $230,000 to produce with extravagant sets, on-location shoots in Chile and Egypt and special effects.
But Record officials also assert the family-friendly content has played a major role.
"Whether you like it or not, the public is still very traditional," said Anderson Souza, who oversees soaps at Record. "Families want to be able to peacefully sit down in the living room and not worry about ... being embarrassed."
The network is now negotiating with Fox's Spanish-language channel, MundoFox, to sell the U.S. rights, Souza said.
On a recent balmy night at a tiny hair salon in Rio's Dona Marta slum, all eyes were glued to the television screen showing "The Ten Commandments," as were customers in the bar and cafe across the street.
"In my opinion, there should only be soaps like this one — to teach about the Bible, about family and values," hairdresser Cristiana da Silva said, dividing her attention between the evening's last customer and the action on screen. "This is the best soap."