Beer for Beautiful Hair: Does It Work?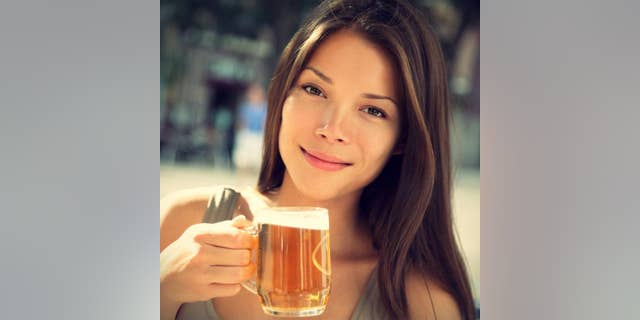 What's the secret behind Catherine Zeta-Jones' soft tresses? Cracking open a cold one.
The 43-year-old actress has long been a fan of using beer to condition her famous mane and she's not alone. For centuries, women have relied on this old wives' tale to get shiny, irresistibly touchable hair. And while the idea of smelling like a dingy dive may turn some off from the treatment, experts say there may be some benefits to this regimen.
"Because beer is rich in proteins and vitamins, through the natural barley and hops, it does contain nutrients for helping to develop healthy hair," explains Dr. Ryan Welter, a Massachusetts-based hair restoration surgeon. "Many people have thus seen the benefits of fuller, thicker and more bodied hair through the use of a beer rinse. However, it's not acting on growing hairs, but rather existing ones. There is no evidence beer can help hair grow."
Stylist Luigi Parasmo, who has worked for on runway shows for couture brands like Versace, Armani and Dolce & Gabbana, also believes beer can make everything better, at least in the hair department.
"Beer works well because the alcohol acts as a cleansing and shine agent," says Parasmo. "It has a softening effect as well."
For those wary of the smell and mess that comes with a beer rinse, beauty companies have already launched similar products that can cut down on time. There's LUSH's Cynthia Sylvia Stout shampoo, which promises to provide volume and shine with a smell that's "delicious, just like a brandy, stout and lemon cocktail." There's also BRÖÖ, a hops and barley-based hair care line that insists on strengthening weak manes for fuller, thicker results.
But some experts say it might not be worth it.
"Aside from the awkwardness of trying to use beer from a can or bottle in the shower, I don't think you want to worry about having to rinse it all out and risk your head of hair smelling like a frat party," says hair restoration physician Dr. Alan Bauman. "Most of the positive reviews I've found in my research seem to be from those who work for companies that produce beer shampoo — not a good sign."
There are several other drawbacks for trying to use beer for gorgeous hair. The alcohol could be too drying for some, which could potentially strip away the natural oils hair needs to maintain overall good health. And there seems to be conflicting opinions on how beer should be used for maximum results. Dr. Welter says beer should first be boiled to lower its drying alcoholic content. Once it properly cools down, it can then be applied directly on clean hair before completely rinsing out. On the other hand, Parasmo recommends putting beer in a spray bottle and lightly spritzing as a leave-in conditioner.
But when celebrity hairstylist Marc Mena was asked the same question, he offered a different approach to achieve "luscious, shiny hair."
"For a hygienically acceptable application, at the end of a shower, pour a flat beer over your hair straight from your roots," says Mena. "Let it sit for 3-4 minutes and rinse with cold water to increase shine. To avoid the stench that can come with beer, follow-up with a fragrant conditioner."