Bashing Melania Trump for White House Christmas decorations latest sign of media hypocrisy, critics say
Even Pat Sajak thinks the media is going too far.
First Lady Melania Trump unveiled the White House's Christmas décor on Monday and – for the second year in a row – she is being attacked, mocked and even vilified for the people's house's holiday furnishings, which many critics feel is a sign of widespread hypocrisy.
While the first lady was criticized for last year's all-white theme, the patriotic red used this season has been equally condemned, with many detractors claiming it looks like the handmaids' outfits in "The Handmaid's Tale."
"The War on Christmas has evolved into more of the media's War on Trump," fumed Media Research Center vice president Dan Gainor.
Mainstream media outlets such as The Washington Post, USA Today, Time, HuffPost, San Francisco Chronicle and Vice all mocked the decorations, often masking their disdain by focusing on the backlash of trolls on social media.
Even House Beautiful, a lifestyle magazine geared towards interior decorators, launched a full-blown attack on the decorations with a feature headlined, "So, The 2018 White House Christmas Theme Is Apparently 'The Shining.'"
The piece features snarky commentary such as "another year in the Trump White House, another opportunity to add a touch of holiday magic to the banality of evil," and "the overwhelming feeling of dread was one of the many sources of inspiration for this year's decorations."
'If she were married to someone the media approved of, it would be all Melania all the time'
House Beautiful wrote that last year's theme was "a terrifying amount of white," while the 2018 decorations feature too much red. The magazine's over-the-top takedown of the White House decorations evokes everything from white supremacy and the migrant caravan to comparing a Christmas wreath to a "bottomless pit of despair."
Meanwhile, similar publications had fawned over the Christmas decorations of past administrations. "We're seriously jealous of Michelle Obama's Christmas decorations," Good Housekeeping wrote in 2016, for example.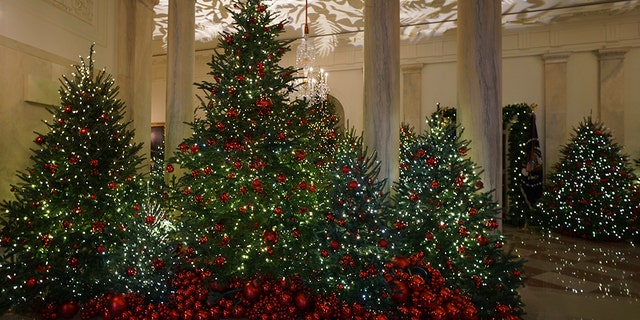 "According to the juvenile style mavens that dominate the lefty media, Melania's Christmas style is somehow 'spooky' or 'deeply haunted.' Compare that to how The Washington Post described Michelle Obama as a 'pro in dressing up the place' whose decorations delivered her own 'steady recognition of military service,'" Gainor said.
The decorations include more than 20,000 feet of lights, 14,000 ornaments, 12,000 bows, wreaths made from pencils, an enormous gingerbread house, 40 topiary trees and a lot of red – which the first lady's office called "a symbol of valor and bravery." The decorations were revealed via a slickly produced video showcasing concepts turning from initial sketches to reality, with Melania' "Be Best," well-being campaign front and center.
Gainor was particularly offended by a vulgar Funny or Die video spoof of the actual White House unveiling that mocked Melania's accent and declared that the trees were dipped in blood.
'This boorish reporting about the First Lady's holiday decorating is culturally divisive and unnecessary'
"Liberal comedy has turned into a 24-7 anti-Trump joke without an iota of humor," he said.
Media critic and DePauw University professor Jeffrey McCall feels that Christmas season should be a time for the nation to celebrate together – which was allowed during the Obama administration.
"Melania's decorating touches have not received the same courtesy in a number of media accounts, as if reporters had any sense of stylish interior design in the first place," McCall told Fox News. "This boorish reporting about the First Lady's holiday decorating is culturally divisive and unnecessary."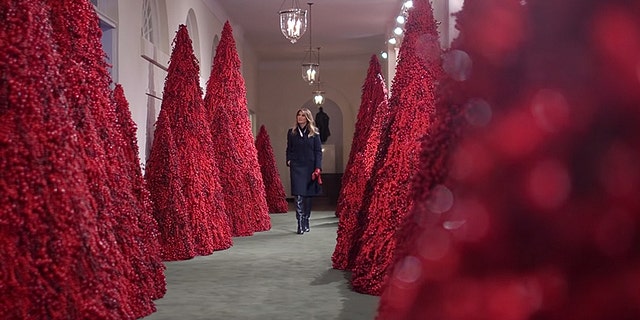 The Hill media reporter Joe Concha told Fox News that "it's obvious the faux outrage about all-things Trump is simply performance art to play on the emotion readers and viewers" at this point – with Melania's Christmas decorations being the latest example.
"Attacking a first lady, which is normally a big no-no, is now part business decision to generate clicks and ratings, part of loathing for anything with the Trump name attached," Concha said.
Concha pointed out that Melania's favorability is higher than most politicians, which could result in negative coverage of the first lady backfiring.
"Feel free to attack over Christmas tree selections because there's little upside outside of a quick clicks hit while any last shred of integrity goes out the window," Concha said.
'Liberal comedy has turned into a 24-7 anti-Trump joke without an iota of humor'
Conservative actor James Woods took to Twitter, pointing out that "Since no American magazine will put her on a cover," her fans will simply have to celebrate the first lady themselves. The tweet racked up over 74,000 likes and thousands of comments that offer the polar opposite of what many media outlets have published -- including a note from Pat Sajak.
"If she were married to someone the media approved of, it would be all Melania all the time. Every move would be breathlessly recorded and every outfit would be featured in multiple publications. Her intelligence and beauty would be highlighted 24/7," the "Wheel of Fortune" host responded.
NewsBusters managing editor Curtis Houck told Fox News that the practice of attacking Melania's decorations "silly" and "pathetic" but the first lady has proven to have thick skin – which is necessary because of the way the media portrays her as a villain.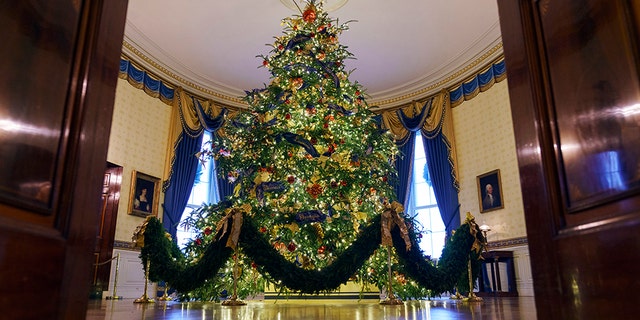 "Michelle Obama was hailed by the media on what felt like a daily basis. As expected, Mrs. Trump won't be afforded anywhere the same level of praise for her decision-making, let alone her fashion sense," Houck said.
McCall feels that Melania and Christmas decorations "should be off-limits for polarizing news coverage and commentary," regardless of whether or not reporters agree with President Trump and his policies.
"The media outlets that have chosen to cheap shot the First Lady and her Christmas decorations come off looking like so many Scrooges," McCall said.
Fox News' Janine Puhak contributed to this report.