Barber goes the extra mile for young client with autism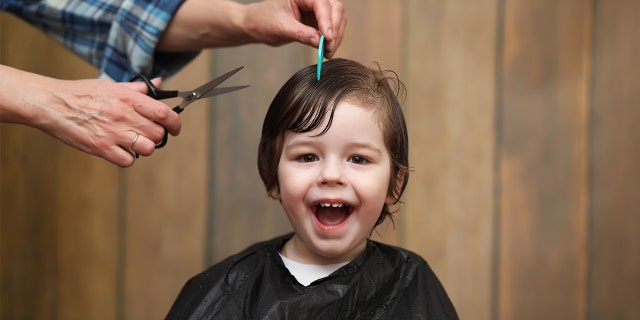 A Canadian barber is being praised as an "everyday hero" for doing whatever it takes to make his youngest customer feel comfortable during haircuts. On Sept. 24, Fauve Lafrenière posted a photo on Facebook of Franz Jacob lying down on the ground to finish a trim on her six-year-old son, Wyatt, in a post that has since gone viral.
Wyatt has autism, and Lafrenière told CBC News that her little one is both hyposensitive and hypersensitive, so having his hair touched can feel unbearable. According to Autisim Speaks, this is a common issue. When it's time for a haircut, though, Jacob's salon Authentischen Barbier in Quebec is their go-to.
TEEN'S CANCER KEEPS HIM FROM HOMECOMING, DATE BRINGS DANCE TO HIM
''Usually hairdressers sort of panicked when they saw Wyatt arrive, so it was really exceptional to meet Mr. Jacob,'' Lafrenière said. ''He welcomes him like his best friend. To see that he accepts these differences is just fantastic."
Celebrating the second anniversary of the old-time, memorabilia-packed barber shop, Jacob knows just how to cater to his autistic clients. "I lock the front door. It has to stay quiet,'' he said, adding that he'll spend over an hour to style their locks just right. Furthermore, every customer has different needs.
COUPLE 'LIGHTS UP SKY' FOR BABY GENDER REVEAL AFTER LOSING ONE OF THEIR TWINS
''I understood that with Wyatt I have to follow him around the salon with my tools to finish the cut," he said. ''It's all part of customer service.''
FOLLOW US ON FACEBOOK FOR MORE FOX LIFESTYLE NEWS
In addition to the 350-plus likes and nearly 40 shares the image of Jacob and Wyatt won on Lafrenière's Facebook post, she said she was thrilled to see the image also go viral on Imgur, an image sharing site, with over 850,000 views pouring in.
''Maybe it will open people's eyes that there are other ways to approach differences," she said.