Arizona Program Helps Latino Parents Navigate School System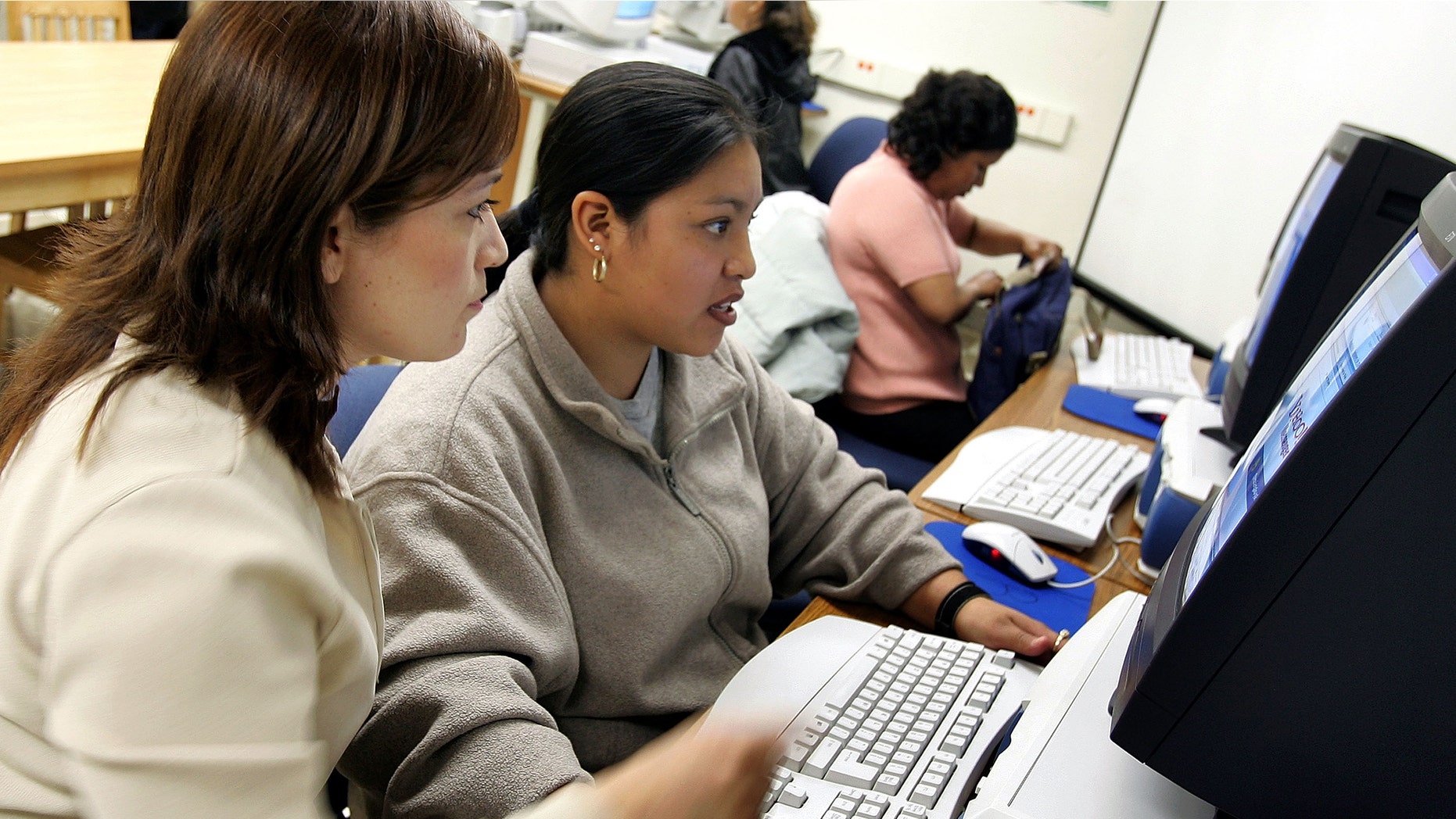 Luz Hernandez is a single mom with five children. While she worries about how her limited English will affect her ability to get a better job, she mostly worries about what her communication skills mean for her kids.
She has had to bring her fifth grader to serve as a translator during parent teacher conferences and she once broke into tears when she couldn't understand her children's homework well enough to help them.
"I cried," the hotel worker said, in the English she has been practicing. "Everything was so difficult, was more hard to me."
When a young person says 'I'd like to be a doctor, a lawyer or a teacher' and their parents don't speak the language, I think their parents feel helpless.
Hernandez's girls are students at Navajo Elementary, in the southern part of Scottsdale, Arizona. The students and parents struggle with communication in the school where 33 percent of the children are Hispanic and 50 percent are white. The challenges that the school's non-English speaking students and their families face resonate at schools across the country. It is one factor of many that has contributed to an academic achievement gap between Hispanics and whites.
But little Navajo Elementary School has launched a modest program that may be tackling this communication problem. For a few hours once a week, parents come together — English speakers to learn Spanish and Spanish speakers to learn English. The hope is that parents will be better able to support their children in the school and work together to increase participation.
"When a young person says 'I'd like to be a doctor, a lawyer or a teacher' and their parents don't speak the language, I think their parents feel helpless," said principal Roberto Aguilar. "What [this program] does is empower the families and parents to support the dreams their kids may have."
Navajo Elementary is located in Scottsdale, a microcosm of the socioeconomic landscape in the U.S. Northern Scottsdale has elite neighborhoods with palatial, multimillion-dollar homes and high-performing schools.
Across town, in south Scottsdale, modest homes are listed between $150,000 and $300,000. That is where Navajo Elementary, a school devoted to science, technology, engineering and math, is located. The school is a Title 1 recipient of federal funds because at least 40 percent of the students qualify for reduced price or free lunches. Unlike higher performing and better funded northern Scottsdale schools, Navajo Elementary was issued a grade of C, which in part reflects the performance of the students on standardized tests which were within a few percentage points of the state average.
Looking at testing scores from across the country, there is a gap between the academic achievements between Latinos and whites. It is especially poignant when it comes to college. About 13 percent of Hispanics are likely to pass first-year college courses in English, math, reading and science, compared to 32 percent of whites, according to data released by the company that creates the college entrance exam, the ACT.
Last April, the Morrison Institute for Public Policy at the Arizona State University released a pointed report criticizing the state for failing to address its educational achievement gap. A decade earlier, the same institute warned that failure to address the issue would decrease the state's workforce and lead to a "grim future," since it estimated that by 2018 about 61 percent of all jobs in Arizona will require some training beyond high school.
Latinos make up nearly one-third of Arizona's population and about 47 percent of its children under 19, according to the report. One component to addressing that gap, especially among non-English speaking families, is improving communication between the school and home.
At Navajo, Parent Teacher Organization member Anna Lawrence found an easy-to-use program called babbel.com. The company agreed to gift the program to the school to help parents and teachers learn English or Spanish. So far, there are about 12 adults using the program.
Lawrence said that through working so closely with the families at Navajo, she has found that Spanish-speaking parents felt alienated from the school but really wanted to help.
"I went about trying to find different ways to teach these people English so they could feel more comfortable, be more involved," she said.
Hernandez said it has helped her. She now feels comfortable chaperoning on class trips, is able to express herself at parent teacher conferences and, she hopes, it just might help her get a better job.
Sarah Birkett, who has two kids in the school and is learning Spanish, said the unexpected benefit was that it helped her grow closer to the Spanish-speaking parents. She recently went to one family's home to learn to make tortillas. The class, she said, is helping the parent body grow closer, drawing in families that in the past felt alienated from the school.
It sends a message, she said.
"When they see us translating for each other, it says, 'hey you're safe here, we're all working together'," she said.