9 signs of sleep apnea: heartburn, headaches and more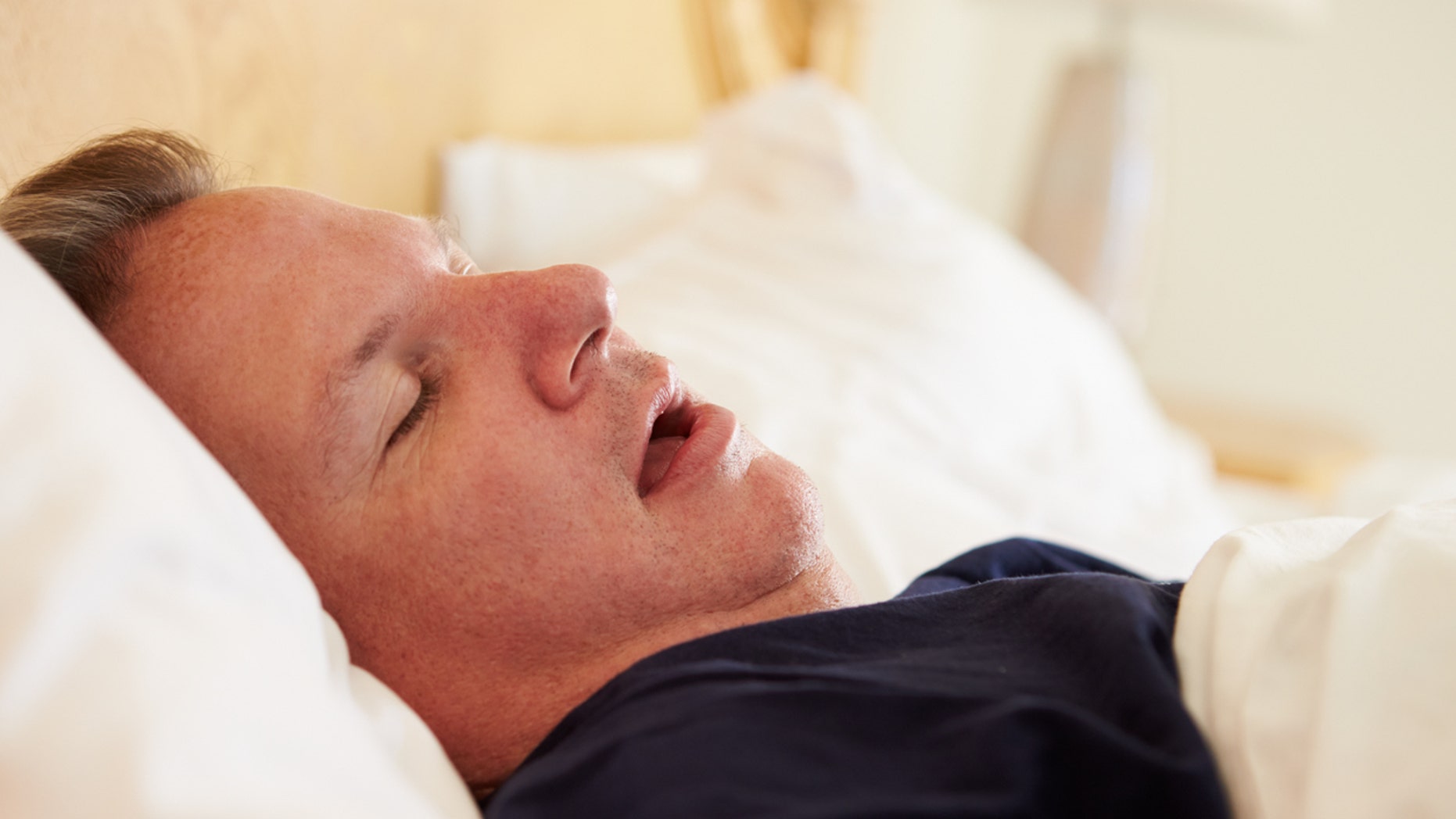 Sleeping poorly doesn't only make us cranky and affect our memory — it can also raise our risk of obesity, heart disease and stroke. For patients with obstructive sleep apnea, for whom obesity is already a risk factor for the condition, data show those effects are undoubtedly true. But how do you know if you have sleep apnea?
Turns out, an estimated 22 million Americans have the condition, which is marked by interrupted breathing during sleep, leading patients to wake up. However, experts warn it's considerably underdiagnosed.
YOU REALLY CAN SLEEP YOUR WAY TO THE TOP, STUDY FINDS
We consulted a couple of them to get their insight on the top signs you may have sleep apnea.
1. Snoring
Snoring, which the National Sleep Foundation suggests affects 37 million Americans regularly, is the hallmark sign of sleep apnea. But snoring doesn't have to be as loud as a jackhammer. In fact, particularly in women, snoring can be low or even inaudible.
Likewise, if you've had surgery for snoring, you can still have sleep apnea but not snore. "It sounds like they're doing just fine but they're actually having silent apnea," Christopher Winter, MD, a sleep specialist and neurologist in Charlottesville, Virginia and author of "The Sleep Solution," told Fox News.
2. Heartburn
If you have sleep apnea, you're more likely to have acid reflux, which can happen during the day and night.
It's not clear why, but one theory suggests that when you're trying to overcome a partially obstructed airway, a significant amount of negative pressure is produced in the chest. "That negative pressure that you're generating can suck the stomach contents up and through the lower esophageal sphincter, causing acid reflux," Joseph Krainin, MD, a double-board sleep medicine specialist and neurologist, in Charleston, South Carolina, told Fox News.
THE MOST POPULAR SLEEP APPS LIKELY WON'T HELP YOU CATCH MORE ZZZ'S
3. Slowed or stopped breathing
If you have pauses in your breathing or you're gasping for air, there's an 80 percent chance you have sleep apnea, Krainin said Krainin, who is also the chief medical advisor for SoClean and founder of Singular Sleep.
4. Headaches
Studies show morning headaches are a common sign of sleep apnea. Although it's not clear why, the symptom may have to do with a lack of oxygen.
In fact, of 33 people who had both sleep apnea and headaches, 13 who used continuous positive airway pressure (CPAP) saw an improvement in their symptoms, a 2012 study in the journal Headache: The Journal of Head and Face Pain found. CPAP is the most common treatment for sleep apnea.
7 NUTRITIONIST-APPROVED MIDNIGHT SNACKS THAT WILL HELP YOU GET BACK TO SLEEP
5. Insomnia
If you're struggling to fall and stay asleep, or you're a restless sleeper, it could be a sign that you have sleep apnea. Insomnia is also often overlooked by doctors and treated with prescription sleep aids. "Not only are they not addressing the underlying root cause of the insomnia, they might be making it worse, Krainin said.
6. Fatigue
If you're exhausted during the day or struggling to stay awake behind the wheel, sleep apnea could be to blame.

7. Frequent urination
Doctors often attribute waking up frequently to use the bathroom at night to the prostate in men and getting older or having children in women, but it may actually be a sign of undiagnosed sleep apnea.
5 ENERGY-BOOSTING FOODS IF YOU GOT A BAD NIGHT'S SLEEP
8. Night sweats
The abnormal breathing of sleep apnea activates the sympathetic nervous system, or the "flight or fight response," which can cause body temperature to rise while you sleep.
9. Teeth grinding
If you wake up with jaw pain or you have gum recession, it could be due to sleep apnea. "If the brain is being woken up constantly during more deep sleep, it can set off abnormal behaviors, and one of them can be the grinding and clenching of the teeth," Krainin said.