4-year-old friends think they're twins because they 'have the same birthday'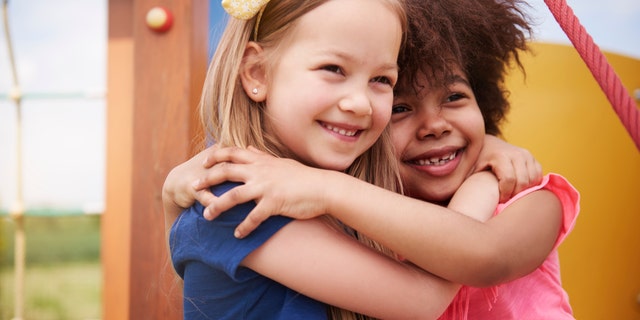 Two four-year-old best friends, Jia and Zuri, are winning the internet over with their innocent insistence that they are, in fact, twins.
The two girls were attending another friend's birthday party when they informed the party goers that they were twins while waiting in line for face painting.
Jia's mom, Ashley Riggs Sarnicola, told Yahoo that the two girls overheard two other girls say they were sisters, so Jia politely let them know, "You guys are sisters and we are twins."
BRIDE UPSTAGED BY SMILING HORSE AT HER WEDDING
Though others were quick to point out that they look nothing alike, which one party guest saying, "There is no way you and Zuri are twins! You don't have the same skin color!"
After a few tears, Jia defended her and Zuri's sisterhood with a profound, "You don't know anything; we are twins because we have the same birthday and the same soul."
Zuri's older sister told Yahoo Lifestyle that the two continued to tell "anyone that would listen that they are twins."
Zuri's sister also pointed out the two think they're twins "because they celebrate their birthdays together," but "they haven't realized that they are actually two days apart.
FOLLOW US ON FACEBOOK FOR MORE FOX LIFESTYLE NEWS
"But they do know they're the same age, four, are in the same class, and do just about everything together," she added.
Twins or not, social media has been loving the adorable little kids, calling the two "special," and saying their friendship is "such a breath of fresh air."