21st-century American orchestras struggle for diversity – and relevance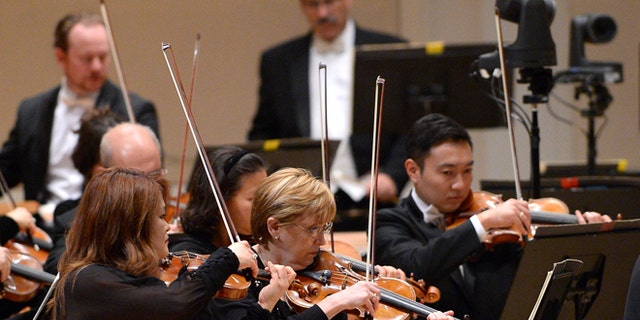 NEWYou can now listen to Fox News articles!
New York – Alex Gonzalez's family isn't particularly musical – his mom was in the Army and his dad was a truck driver and neither played an instrument. When their son expressed an interest in the violin, they had to teach themselves about instruments and look into lessons.
Gonzalez graduated from a conservatory a few months ago with three degrees in music, and he remembers the steep learning curve he had to overcome. He is just now going through auditions and callbacks hoping to earn a violin seat with a major orchestra.
"I definitely felt behind when I got to undergrad," Gonzalez told Fox News Latino. "It took us a while to find out who the people are that you should study with. I was 14 when I got my first real teacher. It took from 11 to 14 to figure out the game."
"Compared to colleagues who were doing it since they were 7," he added.
Talented minority musicians like Gonzalez are a rarity in American orchestras. While African-American and Latinos combined make up about 30 percent of the national population, they only make up about 4 percent of its symphony members.
Orchestras are starting to see this as a big problem.
"I would say since last election, when the American demographics and demographics of the electorate were so different than what they had been, it's been a wake-up call," Jesse Rosen, president of the League of American Orchestras, told Fox News Latino. "Any organization that wants to feel like it's a part of America and America's future has to reflect that in some way."
There is an uptick in Hispanic audiences for classical music, and a slow decline among the white population, which is aging, Rosen explained.
For an orchestra to grow its patrons, they need to develop a relevancy within their diversifying communities. Understanding a community involves including that community in the orchestra – whether as an orchestra leader or as a musician.
This is why there is a growing consciousness to attract minority musicians.
Many people in the arts say outreach programs to attract greater minority participation are long overdue, because the demographics of orchestras haven't changed much at all over the years.
It isn't always from a lack of effort: For the last few decades, a number of organizations have sought ways to increase people's exposure at younger ages to classical music. So orchestras have been partnering with elementary schools to expose children to musical instruments at a very young age.
There is an increasing sense of urgency about this thanks to public schools cutting budgets for elective programs like fine arts.
In middle and high schools, there are more intensive programs involving youth orchestras, higher levels of instruction and more involvement with professional musicians.
The Houston Symphony, for example, has a well-regarded program that reaches more than 10,000 students. Partnering with principals, they funnel their resources into a few high schools in poor communities to offer concentrated focus and increased exposure to professional musicians, composition and performances.
"Orchestras putting effort into working with lower socioeconomic and minority populations is a fairly new idea," Allison Conlan, associate director of education at the Houston Symphony, said, speaking about the country as a whole. "It takes a while. Our efforts are just now getting traction."
Some contend that such partnerships are too disjointed to result in a significant increase of minorities in orchestra positions. For example, children who want to play still have to pay for an instructor and a high-quality instrument.
Even if a student and his or her family is able to make that commitment, they need to make sure the child gets experience performing in something like a youth orchestra, but partnerships between schools and orchestras get more limited as kids get older. Finding the right situation is even trickier in more remote areas.
Among those whose organizations are devoted to diversity, there is a common refrain: the problem isn't isolated to musicians. Conductors, administrators and even audiences need to be more diverse.
"There has been a lack of access over decades, systemically from top down and bottom up. For any change to occur we need to reimagine ourselves as a field," Afa Dworkin, executive director of Detroit's Sphinx Organization, told FNL. The group has been providing resources to encourage Black and Latino musicians in classical music and lobbying for diversity since 1996.
"In order for things to change," Dworkin added, "you'd have to assign drastically a different value of priority."
But at least the call for diversity is growing louder. The Nashville Symphony recently unveiled a program that gives students one-on-one coaching from symphony musicians. The Cincinnati Symphony Orchestra announced a similar program in tight collaboration with the University of Cincinnati's College-Conservatory of Music.
Students like Gonzalez who show the talent and the dedication to develop it don't always make it to the audition circuit after college. Costs to travel for auditions are high, and many show up to compete for only a few available spaces.
"After some analysis, we found that we're doing a better job of recruiting diverse musicians into children's programing and youth orchestras, but [we wondered], Where's the breakdown happening? Why aren't more Latinos and African-Americans going into professional musicianship?" Chris Pinelo, vice president of communications with the Cincinnati Symphony, told FNL. "A lot [of the shift] is happening in college."
That shift happened for Patricia Silva, who is from Brazil. After traveling to the U.S. to do graduate work in music, she decided to seek a spot a college job rather than an orchestra position, because she wanted to be able to help students mature into musicians.
As she reflected on why there aren't more minorities in orchestras, she thought of her own journey.
It was pure chance that she was exposed to classical music when young – that lack of exposure, she thinks, will continue to limit the pool of minority musicians.
"People think the current system is working," Silva said. "It's not."