2018 Halloween costumes sparking controversy, from sexy 'maidens' to bloody trophy hunters
Some Halloween costumes that have popped up in stores this year have already horrified trick-or-treaters. Photos of several unusual outfits — many targeted at women — sparked backlash online for being sexist, culturally inappropriate or graphic.
Every fall, a plethora of insensitive Halloween attire seems to make the rounds, and this year is clearly no exception. At least one online retailer has pulled some controversial items from its site, while another doubled down on its product.
Here's a look at some Halloween costumes that have sparked outrage in recent weeks.
'I Am Cait'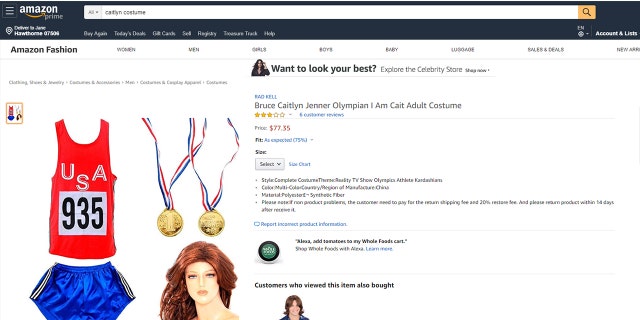 Michigan-based retailer Costume Agent removed a Caitlyn Jenner-inspired costume from online resellers such as Amazon and eBay following complaints from transgender support groups including Stonewall and The Beaumont Society, the latter of which called the item "transphobic" and "completely tasteless," per Pink News.
Just days before, however, the retailer had vowed not to pull the costume from sale, even despite the negative backlash, with a representative telling TMZ it was meant to be "funny."
The company eventually relented on Oct. 24, saying in a statement to NBC News that the costume — which sold for $44.95 and included running shorts, a tank top reading "USA," two fake gold medals and a red wig — was no longer offered as of that day.
"After hearing concerns from those who are offended, regardless of our own thoughts and opinions, we decided to remove it," a representative for Costume Agent said in a statement.
'Geisha' costume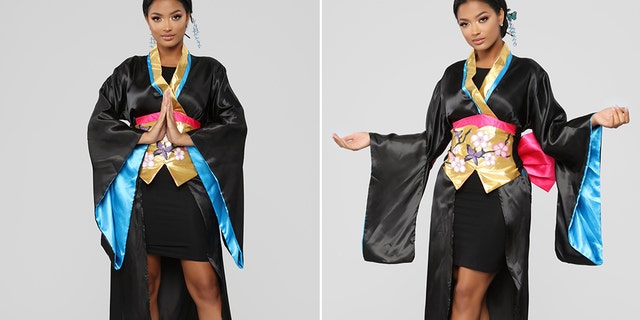 In September, Fashion Nova sparked outrage for offering a $50 "Geisha" costume kit which included a kimono, an obi, a skirt and hair sticks. The item was slammed as cultural appropriation, and critics accused the costume's short skirt of perpetuating the notion that geishas were sex workers, The New York Post reported.
"Now that it's a spooky season that still doesn't give you the right to dress up as a sexy native american [sic] or a sexy geisha or anything like that," one Twitter user commented.
The costume, however, was still available for sale at Fashion Nova as of Oct. 29.
Trump-inspired trophy hunter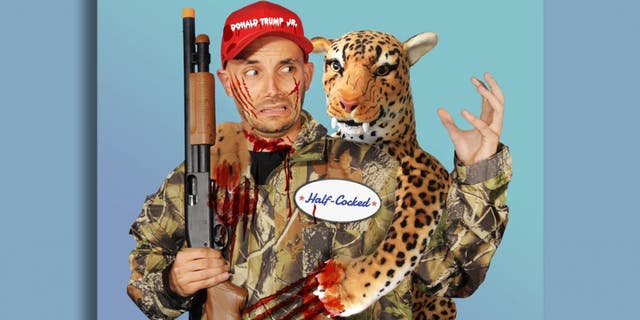 PETA mocked a viral trophy hunting photo of Donald Trump Jr. and Eric Trump in late September by using as inspiration for a graphic Halloween costume. The animal rights organization said it wanted to give the animal an opportunity to "win" the battle.
"In a twist on the horrific trophy-hunting photo that showed the Trump brothers grinning while clutching the body of a dead leopard – this time the leopard wins!" PETA tweeted on Sept. 20, noting to followers they could pre-order the "limited edition" outfit.
The group said profits from the sales will go toward supporting "lifesaving work for wild animals."
The costume drew outrage from Trump Jr., who accused the organization of being hypocritical and basically being an "animal slaughter factory."
'In the last 11 years, PETA has killed 29,426 dogs, cats, rabbits, & other domestic animals,'" Trump Jr. wrote, linking to a 2013 Huffington Post article highlighting PETA's euthanizing policy. In response, PETA called Trump Jr. a "callous creep" and continued to promote the product.
Sexy 'maiden costume'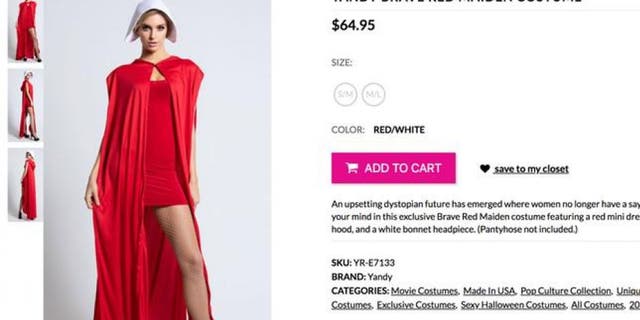 A costume that looked like a sexy version of clothing you'd spot on the Hulu series "The Handmaid's Tale" was removed from clothing store Yandy's website for sexualizing the garb — a symbol of female oppression characters were forced to wear on the show.
"An upsetting dystopian future has emerged where women no longer have a say," the original description for the $64.95 costume read on the website."However, we say be bold and speak your mind in this exclusive Brave Red Maiden costume featuring a red minidress, a matching cloak with an attached hood and a white bonnet headpiece."
Dozens of people complained to the clothing site on Twitter, calling them out for "missing the point" and "sexualizing a show about misogyny and rape."
Yandy eventually responded to customers' concerns, claiming it was initially inspired to create the costume after recognizing it as a "powerful protest image."
"Over the last few hours, it has become obvious that our 'Yandy Brave Red Maiden Costume' is being seen as a symbol of women's oppression, rather than an expression of women's empowerment," Yandy said in a Sept. 21 statement.
'Sexy Native American'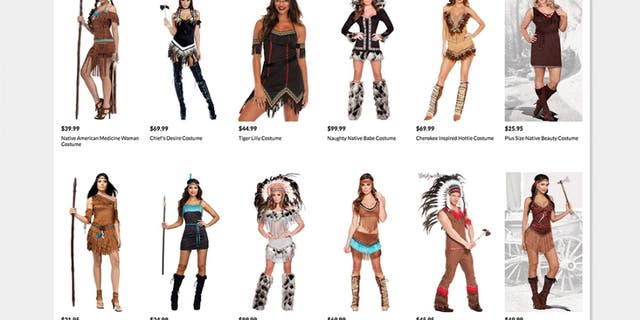 More than 40 outfits sold on the lingerie website Yandy fall under either the "sexy Native American" or "sexy Indian" categories, drawing outrage and cries of cultural appropriation online.
Twitter users slammed the company for selling "racist" and "offensive" costumes that sexualize the culture of Native Americans. The company was called out just days after their sexy "maiden" costume drew backlash.
"Hey @Yandy, I'm disgusted by your Culture-as-Costume selections, especially your "Native American" collection. Racism is a bad look. #cancelyandy," one Twitter user wrote to the company.
"I really do hope @Yandy takes down those costumes that they appropriated from Native American Cultures. Regardless I ain't spending a penny at that store, the CEO has made it clear that @Yandy profits off of people of color and their cultures," another added.
Despite the negative response, the company appears to still be selling the outfits — even putting some of them on sale.
"How is it that @Yandy can get rid of a FICTIONAL character costume because people were offended, but can't get rid of the "Native American" costumes that are actually offensive to people who EXIST?! #CancelYandy," one social media user asked.
Women's 'ghosted' costume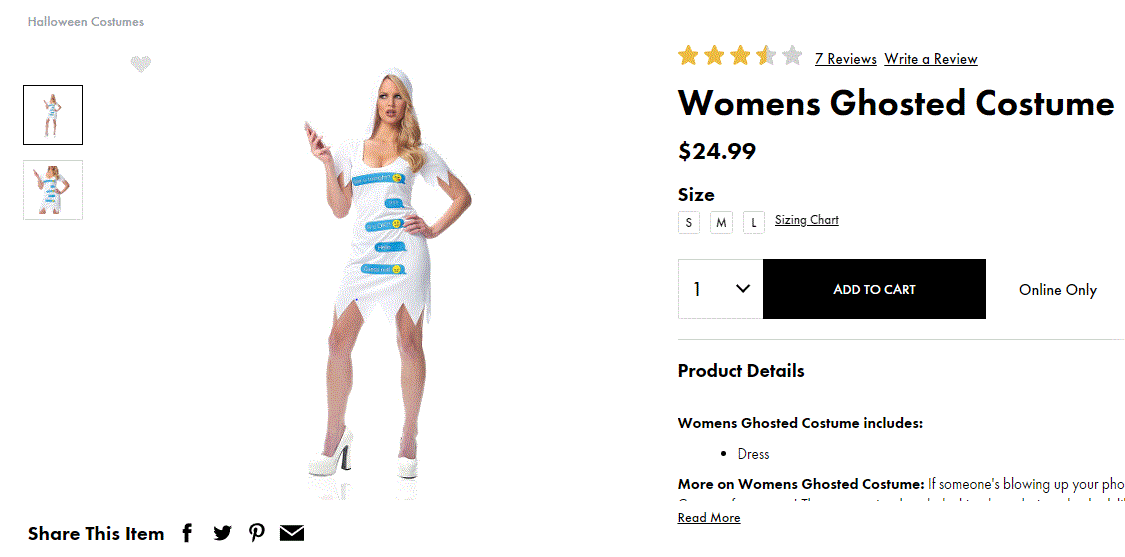 Women who are known to "ghost" or avoid texting possible suitors are now given the option to wear their text messages — or lack thereof — on their outfits with Party City's new Halloween costume.
"If someone's blowing up your phone, ghost them in a Ghosted Costume for women! The costume is a hooded white dress designed to look like a ghost with a series of unanswered texts on the front. The texts include "???," "R U OK!?," and more. Eager texters will know not to bother you in this Ghosted Costume!" the description on Party City's website reads.
The short white dress, resembling a ghost, with iMessages written across the front of it drew mixed reviews.
"Anyone who has been recently single and on the dating scene would die of laughter at this. It's hilarious!" one user reviewed the product.
"Such a creative and fun idea in our world of dating! The reviewers before don't be bitter because it happened to you," another chimed in.
Some, however, were less than thrilled with the idea.
"This costume doesn't make sense. If you're ghosting someone, the messages would be gray (incoming texts). This looks like you're the one getting ghosted/being crazy because blue is outgoing texts. Who would wanna wear that lol?" one person asked.
"HELLO...did anyone read the msgs? Clearly they're from the person who's gotten ghosted; infusing some humor into a painful immature form of rejection. Neither of the previous reviewers actually bought the costume. I did. Need to wear a slip with it, my primary critique," another added.
Fox News' Kathleen Joyce contributed to this report.