19 manatees rescued after getting trapped in a drainpipe in Florida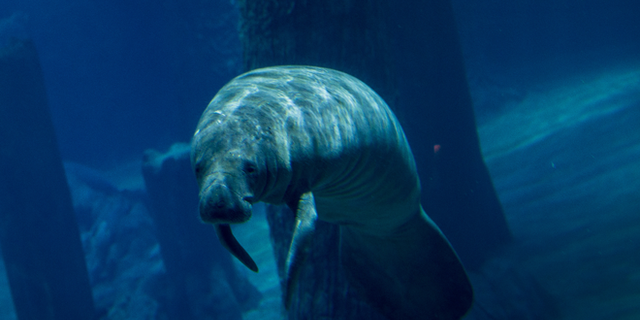 NEWYou can now listen to Fox News articles!
It's not easy being a manatee.
Besides being up to 13-feet long and weighing around 1,300 pounds – earning them the nickname "sea cows" – manatees in Florida have to put up with historically cold temperatures that have been putting a chill on their home waters, forcing the sea mammals to search for a snug place to cozy up.
Sadly for 19 manatees, the place they chose was a drainpipe in Satellite Beach in the intercoastal canal on Florida's Atlantic coast, where the enormous creatures became ensnared and needed some human help to get free.
"It's been cold lately and these canals are all filled with manatees," said Satellite Beach Fire Chief Don Hughes, according to the Washington Post. "I wouldn't even begin to venture a guess as to how they got into the drainage pipes. They will go wherever there's warm water."
Acting on a tip from the Florida Fish and Wildlife Conservation Commission, the town's municipal workers found the manatees in the drainpipe in the early morning hours on Tuesday. Local police and fire agencies worked with experts from SeaWorld to rescue the animals, which included a mother and her calf.
Florida Fish and Wildlife Conservation Commission biologist Ann Spellman said that the manatees often leave the Indian River Lagoon during cold snaps for warmer waters in the canals and had probably followed each other into the pipe.
Video footage of the rescue effort shows one person comforting a manatee that is floating at the opening of the pipe. Other footage shows a manatee being lifted in a sling to a nearby canal, where it was released to cheers from onlookers, as well as two other manatees being petted by rescuers after being hoisted out of the water by heavy machinery.
Some of the manatees were bruised and bloody from the experience, and at least one bucked as rescuers attempted to load it on to the back of a truck with a backhoe.
"My mother's here from Ohio," C.J. Miller, who's lived in the area for more than three decades, told the Post. "We heard about this and decided to come to see what was happening. She's never seen a manatee."
Like us on Facebook
Follow us on Twitter & Instagram