18 of the Funniest Film Friendships of All Time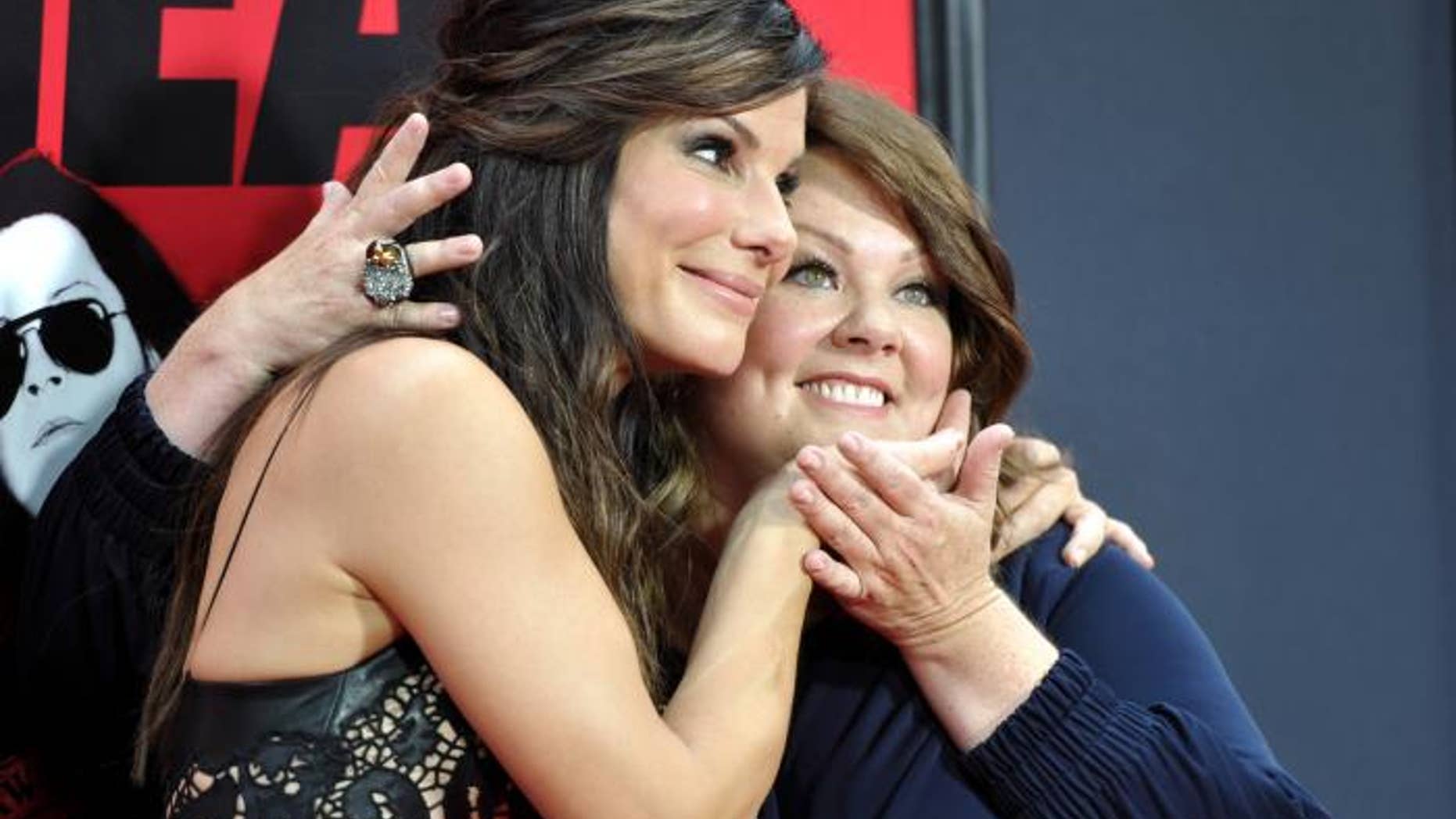 Friends are there to rush over with wine when we've been dumped, to tell us when we have food in our teeth, and to defend us when someone says something mean. Plus, they like us no matter what we look or smell like. (For the most part, anyway.)
As such an essential part to our lives, it's no wonder the film industry puts a lot of focus on friendship in buddy comedies, rom-coms, and even animated films. Whether it's between co-workers, family members or even a sentient snowmen, Hollywood celebrates friendship in all of its different (and unlikely) forms.
Need a refresher? Grab a friend and take a look at 18 of the funniest film friendships below. (Then take a minute to tell your buddies how important they are — even if they're not nearly as funny.)
Ashburn and Mullins in 'The Heat'
After a long day at work, sometimes you just have to let loose with a co-worker over a few drinks at the bar. Ashburn and Mullins (Sandra Bullock and Melissa McCarthy) take things a bit too far, but that's what makes the best memories, right?
Tiff, Britt, Karen, Tori and Lisa in 'White Chicks'
Undercover agents Marcus and Kevin (Marlon and Shawn Wayans) pose as "Tiff" and "Britt" to try and foil a criminal plot, but they actually form real friendships with an unsuspecting group of girls. Even after their true identities are exposed, the group still agrees to remain friends.
Megan and Annie in 'Bridesmaids' 
Lillian (Maya Rudolph) and Annie (Kristen Wiig) were great friends too, but Megan (Melissa McCarthy) picks Annie back up and gives her a wake-up call when she's at rock-bottom. And though Annie wasn't happy with Megan in the moment, in hindsight, sometimes friends have to tell you things you don't want to hear.
Brennan and Dale in 'Step Brothers'  
Some friendships prove that opposites attract, but Brennan and Dale (Will Ferrell and John C. Reilly) prove that similarities attract even moreso. They both have the same favorite dinosaur, magazine, and male celebrity (John Stamos, if you were wondering), and they both enjoy doing karate in the garage! It's a match made in heaven!
The Wolf Pack in 'The Hangover'
Alan (Zach Galifianackis) literally sings "We're the three best friends that anybody could have!" during a drive through the desert during this bachelor-party-gone-wrong. He's kinda right, too. By the end, Alan's "Wolf Pack" grows closer and closer while they seek out the soon-to-be groom.
Dory and Marlin in 'Finding Nemo' 
On their journey to find Nemo, Dory (voiced by Ellen DeGeneres) shows Marlin (Albert Brooks) how to enjoy life to the fullest. Their adventures — and setbacks — strengthen their bond as they travel across the ocean together, and experience things they never thought they would.
Timone, Pumba and Simba in 'The Lion King'
A meerkat, a warthog and a lion. Sounds like an unlikely friendship — and it was — but it didn't stop them from belting out a hearty "Hakuna Matata" when times got rough. They even stuck together into adulthood, when times got even rougher.
Kate, Carly and Amber in 'The Other Woman'
What happens when a man's wife meets his two mistresses? They become best friends! (In the 2014 film "The Other Woman," anyway.) Though his unfaithful actions brought the three of them together, Kate, Carly and Amber (Leslie Mann, Cameron Diaz and Kate Upton) eventually bond over their hatred for their guy.
Ana and Olaf in 'Frozen' 
A princess and a snowman: Who would've thought? Ana and Olaf (voiced by Kristen Bell and Josh Gad) go on a journey to save summer, but they learn about friendship and sacrifice along the way. Essentially, they prove that "some people are worth melting for."
Mitch and Dave in 'The Change-Up'
Here's the premise: Mitch (Ryan Reynolds) and Dave (Jason Bateman) pee into a magical fountain at the same time, and Mitch soon finds himself living in Dave's body, while Dave inhabits Mitch's. But, through switching bodies and essentially lives, they also prove how far they're willing to go for one another to keep up appearances.
Doug, Woody, Bobby and Dudley in 'Wild Hogs' 
Doug, Woody, Bobby and Dudley (Tim Allen, John Travolta, Martin Lawrence and William H. Macy) are heading for a mid-life crisis, so what better way to cope with it than by taking a cross-country road trip with your best friends? Heck, they make us want to hop on a motorcycle and head to California for a month.
Allen and Terry in 'The Other Guys'
Detective Allen Gamble (Will Ferrell) and Detective Terry Hoitz (Mark Wahlberg) are unhappy partners on the police force. But, of course, they become best friends despite petty arguments and lots (and lots) of screaming.
Porky and Buckwheat in 'The Little Rascals'
In the old shorts and the '90s remake, Porky and Buckwheat were inseparable. They just love being in each other's company — almost as much as they love finding a single dollar. If only things were as simple for the rest of us.
Sonny and Julien in 'Big Daddy. 
There's quite an age gap between Sonny (Adam Sandler) and Julien (Cole and Dylan Sprouse), but they make each other better people regardless. Heck, some people are best friends with cats, dogs, lizards, or maybe even pet rocks, so no judgement here. If it works, it works.
Shrek and Donkey in 'Shrek' 
Donkey (voiced by Eddie Murphy) sees Shrek (Mike Myers) as more than an ogre, and together these two go on a quest to save Princess Fiona. Because if you can't go on quests with your best buddy, what's the point?
Brian, Andrew, Allison, Claire and Bender in 'The Breakfast Club'  
You know the story: The brain, the athlete, the basket case, the princess and the criminal (Anthony Michael Hall, Emilio Estevez, Ally Sheedy, Molly Ringwald and Judd Nelson) spend a Saturday together in detention. They weren't friends beforehand, but they come to understand and accept each other as the day wears on.
The Barden Bellas in 'Pitch Perfect'
Sure, they work together as an acapella group, but their friendship goes beyond singing and dancing. The Barden Bellas, as their group is known, conquer their competition on stage and off.
Jenko and Schmidt in '22 Jump Street'
Jenko (Channing Tatum) and Schmidt (Jonah Hill) are the ultimate best buds. We first met them in "21 Jump Street," during which Jenko took a bullet for Schmidt, and in "22 Jump Street." they further prove how unbreakable their bond is.