Zika's impact on children will require new medical approach: expert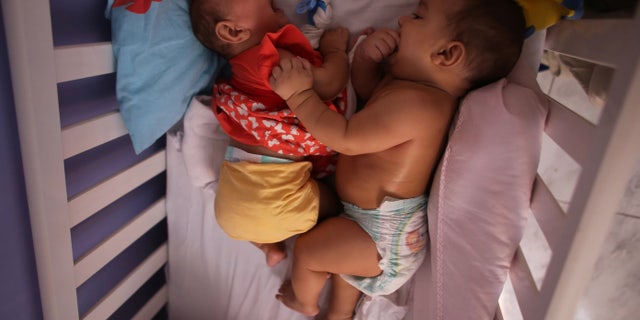 NEWYou can now listen to Fox News articles!
The spread of Zika virus through the Americas is likely to affect tens of thousands of children with a wide range of neurological and psychiatric problems in the next year, requiring a new approach to their care, a leading U.S. disease expert said on Monday.
Dr. Peter Hotez, of the National School of Tropical Medicine at Baylor College of Medicine, wrote in the medical journal JAMA Pediatrics that a host of pediatric specialists, including neurologists and experts in rehabilitation medicine "will need to mobilize quickly to get ahead of this fast-moving train."
The current Zika outbreak was first detected in Brazil last year, and public health officials estimate it could infect up to 4 million people in the Americas. When pregnant women are infected, the virus can cause microcephaly, a rare birth defect marked by small head size and underdeveloped brains in newborns, as well as a host of other potentially severe neurological and developmental disorders.
Brazil has confirmed more than 1,400 cases of microcephaly linked to Zika, and is studying additional fetal abnormalities that may result from the virus.
Researchers are also following apparently healthy babies born to women infected during pregnancy to see if developmental problems crop up later in childhood.
"We will likely need to educate and train a new generation of primary care providers, including pediatricians and pediatric nurse practitioners," Hotez wrote. "We will need to assemble interdisciplinary teams of pediatric specialists ... we will need new programs of child advocacy."
Hotez said the new medical approach would need to cross borders and suggested studying how pediatric specialists responded to a wave of HIV cases of babies born to mothers infected with that virus 30 years ago.
Brazil has been hardest hit by the outbreak so far, but high infection rates have also been reported in Colombia and the virus is spreading rapidly now in Puerto Rico.
U.S. health officials expect local outbreaks, especially along the Gulf Coast, as mosquito season ramps up in the coming weeks. Houston and Galveston, Texas, New Orleans and parts of Florida are particularly vulnerable, given high concentrations of mosquitoes that can carry the virus, urban crowding and poverty, Hotez said.
He warned that more than 1 million pregnancies could be at risk of Zika exposure in U.S. Gulf Coast states.
The World Health Organization has said there is strong scientific consensus that Zika can also cause Guillain-Barre, a rare neurological syndrome that causes temporary paralysis in adults.